Eat&Drink
Food Stories
Eating Alone is Okay on Black Day!
Famous Jajangmyeon Restaurants in Incheon
April 14th is Black Day in Korea. If you haven't received candies or chocolates on Valentine's Day (Feb. 14) or White Day (Mar. 14) from your partner, don't worry. You can enjoy jajangmyeon (noodles in black bean sauce) on Black Day (Apr. 14) by yourself. The origin of Black Day is unknown. One theory says that Black Day originated from the idea that jajangmyeon, the most famous 'black food' in Korea, is the most appropriate to soothe the singles whose heart has turned 'black' from heartache.
Well, is there any other dish that you can eat in an eatery by yourself?
You can even place an order for a single serving to your house. Jajangmyeon is the best given the fact that comparable popular fast foods in Korea such as hamburgers and tteokbokki (spicy rice cake) are delivered only when you place an order for at least two servings. Jajangmyeon is so popular in Korea that you can find a restaurant in just about anywhere around the country. It is also popular throughout the year. It could be called the healing food for singles in Korea.
Indeed the problem you face when eating jajangmyeon alone in a Chinese restaurant is that couples next to your table enjoy tangsuyuk (sweet and sour pork), a much more expensive dish. Here are famous jajangmyeon restaurants where you will enjoy jajangmyeon without having to envy anyone in the world.
1. Sinseung Banjeom(新勝飯店)
Sinseung Banjeom is the most famous restaurant in Incheon Chinatown. It is run by Wang Ae-joo (43), a granddaughter of the late Woo Hee-gwang who ran Gonghwachun. The restaurant is famous for maintaining the original recipe for jajangmyeon for more than 100 years. 'Wednesday Food Talk,' a popular TV program, featured the restaurant as one of the best jajangmyeon restaurants in Korea, bringing more popularity.
Uni jajang (noodles in chunky black bean sauce)
) is the hottest item on the menu of Sinseung Banjeom. Pork and vegetables are cut into small pieces so that uni jajang has smooth texture. It is less salty than ordinary jajangmyeon, so it is popular among everyone regardless of age. Uni jajang in this restaurant is topped with chopped cucumbers and fried egg. Some may wonder, why fried egg on top of oily jajangmyeon? Try it. You will find that they are a perfect match for each other. Mix the noodle with a sauce served in a separate bowl and chopped cucumbers (You can eat fried egg separately). Eat it with chopsticks. Feel the unique wonderful taste inside your mouth. Jajang sauce is so mild and delicious that you can eat it separately. For your information, be sure to order a double-size jajangmyeon unless you order another dish. I bet you can finish it all.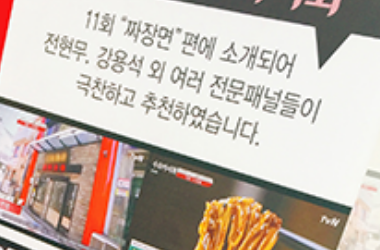 Jajangmyeon KRW6,000 / Gan jajang KRW6,000 / Uni jajang KRW8,000 / Sacheon jajang KRW8,000 / Chapssal tangsuyuk KRW18,000
Location: 11-32, Bukseong-dong 2-ga, Jung-gu, Incheon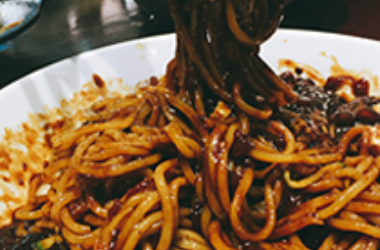 2. Mandabok (萬多福)
Mandabok Restaurant is famous for cooking baengnyeon (literally "one hundred years") jajang without using MSG (monosodium glutamate), a flavor enhancer. To make jajang, the restaurant stir-fries meat and vegetables cut into small pieces in chunjang (black bean paste) without water. The jajang looks more like fried meat. Mix noodle with jajang and two spoonful of chicken broth before eating. You can go without chicken broth, or add more chicken broth to make jajang taste more like kalguksu (noodle soup). The options patrons are given about how to eat the jajangmyeon at the restaurant adds to the attractiveness of the dish.
If you want to try a totally different kind of jajangmyeon, we recommend hayan baengnyeon jajang, another signature dish on the menu of Mandabok. Jajang for the dish is made of garlic and sauce imported directly from China. The jajangmyeon dish tastes completely different from ordinary jajang dishes.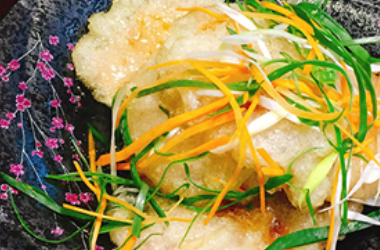 Baengnyeon jajang, Hayan baengnyeon jajang KRW7,000 / Special jjamppong (spicy seafood noodle soup) KRW10,000 / Tangsuyuk KRW20,000 (small plate)
3. Gonghwachun (共和春)
It is 'Gonghwachun' that comes to mind first when one hears jajangmyeon in Incheon. The name of the restaurant is familiar to everyone no matter how much you know about the history of jajangmyeon in the country or whether you have been Chinatown in Incheon. Gonghwachun is totally different from the original Gonghwachun, yet it is still famous for jajangmyeon.
Although the restaurant sells ordinary jajangmyeon, most patrons order Gonghwachun jajangmyeon.
Ingredients are cut into relatively big pieces that are stir-fried in high heat. The jajang cooked in this way has strong and pungent taste because it is topped with pepper cut into small pieces. The pungent taste helps reduce the potentially greasy taste of the jajangmyeon of this restaurant. Compared to other restaurants, the jajangmyeon of this restaurant is plentiful. Noodles are relatively thick as well. So you better begin mixing noodles and jajang sauce as soon as you are served.
Jajangmyeon KRW5,000 / Gonghwachun jajang KRW10,000 / Samseon jjamppong (spicy seafood noodle soup) KRW8,000 / Tangsuyuk KRW25,000
Location: 43, Chinatown-ro, Jung-gu, Incheon / 032-765-0571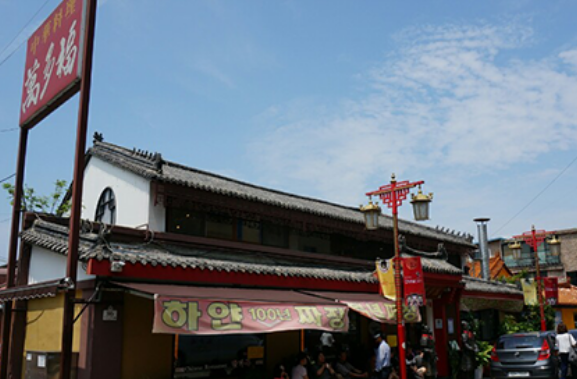 4. Jinheunggak (振興閣)
Established more than 50 years ago, Jinheunggak is a favorite eatery for locals. The taste has not changed a bit, nor has the shopkeeper's generosity. The restaurant has maintained its unique recipe that is not luxurious but is faithful to the basic requirements for high-quality cooking. If you order jajangmyeon at this restaurant, you are served uni jajang. The price is KRW4,500. New patrons are surprised twice by the price on the menu and the taste of the dish. Jajang sauce is served sufficiently. Many who wish that they had more jajang sauce for their jajangmyeon dishes would never feel a shortage of sauce in Jinheunggak. Another secret specialty of this restaurant is jjamppong bap (spicy seafood soup with rice). Jjamppong bap usually means jjamppong (spicy seafood soup) plus a bowl of rice instead of noodle. Here in this restaurant, the dish means a bowl of deliciously cooked egg fried rice plus rich spicy jjamppong soup. It is a perfect dish to cure hangover. If you want to taste authentic Chinese food, come to Jinheunggak.
Uni jajang KRW4,500 / Gan jajang KRW5,500 / Samseon gan jajang KRW8,000 / Jjamppong bap KRW6,500 / Tangsuyuk KRW19,000
Location: 6-2, Jungang-dong 4-ga, Jung-gu, Incheon / 032-772-3058
5. Yeonjung Banjeom (連中飯店)
Yeonjung Banjeom Restaurant is run by the founder's third generation. The restaurant began under the name 'Donghaeru.' The founder wanted to serve delicious food to residents. His son struggled to maintain the original taste. The founder's grandson chose to take on challenges and developed the restaurant into Yeonjung Banjeom. The restaurant offers five kinds of jajangmyeon and jjamppong, respectively, in addition to other dishes on the menu. The most popular jajang of the house is samseon jajang. The jajang sauce is known for the abundant amount of fresh ingredients such as conch meat, webfoot octopus, onion and cabbage. Another secret to the jajangmyeon of this restaurant is the use of relatively thin and glutinous noodles which create a perfect match with the rich jajang sauce of the house. This restaurant also tops its jajangmyeon with fried egg which is fried in oil in an instant. The jajangmyeon of this restaurant is good for everyone including those who are not seafood fans. If you want more meat in your jajang, order uni jajang. You will be more than happy.
Jajang KRW5,000 / Gan jajang KRW6,000 / Uni jajang KRW7,000 / Samseon jajang KRW8,000 / Tangsuyuk KRW15,000 (small plate)
Location: 1542-18, Juan-4-dong, Nam-gu, Incheon / 032-422-0791 / closed on Sundays