Eat&Drink
Food Stories
Eating Alone is Okay on Black Day!
Famous Jajangmyeon Restaurants in Incheon
April 14th is Black Day in Korea. If you haven't received candies or chocolates on Valentine's Day (Feb. 14) or White Day (Mar. 14) from your partner, don't worry. You can enjoy jajangmyeon (noodles in black bean sauce) on Black Day (Apr. 14) by yourself. The origin of Black Day is unknown. One theory says that Black Day originated from the idea that jajangmyeon, the most famous 'black food' in Korea, is the most appropriate to soothe the singles whose heart has turned 'black' from heartache.
Well, is there any other dish that you can eat in an eatery by yourself?
You can even place an order for a single serving to your house. Jajangmyeon is the best given the fact that comparable popular fast foods in Korea such as hamburgers and tteokbokki (spicy rice cake) are delivered only when you place an order for at least two servings. Jajangmyeon is so popular in Korea that you can find a restaurant in just about anywhere around the country. It is also popular throughout the year. It could be called the healing food for singles in Korea.
Indeed the problem you face when eating jajangmyeon alone in a Chinese restaurant is that couples next to your table enjoy tangsuyuk (sweet and sour pork), a much more expensive dish. Here are famous jajangmyeon restaurants where you will enjoy jajangmyeon without having to envy anyone in the world.
1. Sinseung Banjeom(新勝飯店)
Sinseung Banjeom is the most famous restaurant in Incheon Chinatown. It is run by Wang Ae-joo (43), a granddaughter of the late Woo Hee-gwang who ran Gonghwachun. The restaurant is famous for maintaining the original recipe for jajangmyeon for more than 100 years. 'Wednesday Food Talk,' a popular TV program, featured the restaurant as one of the best jajangmyeon restaurants in Korea, bringing more popularity.
Uni jajang (noodles in chunky black bean sauce)
) is the hottest item on the menu of Sinseung Banjeom. Pork and vegetables are cut into small pieces so that uni jajang has smooth texture. It is less salty than ordinary jajangmyeon, so it is popular among everyone regardless of age. Uni jajang in this restaurant is topped with chopped cucumbers and fried egg. Some may wonder, why fried egg on top of oily jajangmyeon? Try it. You will find that they are a perfect match for each other. Mix the noodle with a sauce served in a separate bowl and chopped cucumbers (You can eat fried egg separately). Eat it with chopsticks. Feel the unique wonderful taste inside your mouth. Jajang sauce is so mild and delicious that you can eat it separately. For your information, be sure to order a double-size jajangmyeon unless you order another dish. I bet you can finish it all.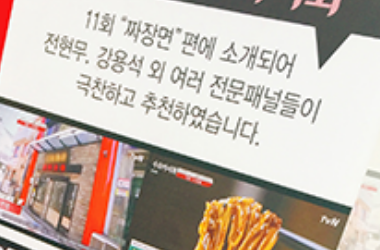 Jajangmyeon KRW6,000 / Gan jajang KRW6,000 / Uni jajang KRW8,000 / Sacheon jajang KRW8,000 / Chapssal tangsuyuk KRW18,000
Location: 11-32, Bukseong-dong 2-ga, Jung-gu, Incheon