Explore
The 12 months of Incheon
Its Neighboring Area is an Open Museum!
November: Dongincheon Seerfish Street
Location: Come out of Exit 8 of Dongincheon Station Underground Shopping Center. Seerfish Street is a big alley starting at the entrance between Daehan Book Store and Incheon Educational and Cultural Center for Students (Jeon-dong, Jung-gu).
Like there is Makgeolli Alley in Jeonju, there is Seerfish Street in Incheon.
Jung-gu was once the central part of Incheon. For a while, Jung-gu seemed to have struggled with a decline due to population reduction coupled with the deterioration of commercial districts and the aging of buildings and structures. However, its China Town started to attract attention. The value of its 130-year history and culture, following the opening of Incheon Port in 1876, began to be widely recognized. Jung-gu emerged as the city's popular tourist destination. A few years ago, makgeolli (rice wine) became a popular drink for Koreans again and Seerfish Street gained further popularity among drinkers in particular.
Jeonju Makgeolli Street is known for a number of snacks offered at affordable prices. Incheon Seerfish Street is highly regarded for a couple of factors, including the traces of the city's historical, cultural and artistic heritages, the memories of the 1970s and 1980s, and the generosity of the grilled seerfish shopkeepers. Thus, many flock to this street for more than one reason.
More than 20 Stores with Seerfish Signboard
In the 1970s and 1980s, Dongincheon was exactly the same to Incheon as Myeong-dong is to Seoul. It thrived. The first grilled seerfish store in the area is "The Inha's" that opened its doors in 1968. There were only three seerfish restaurants until the beginning of the 1990s. Over time, words about the success of "The Inha's" spread, and the number of seerfish restaurants increased. Now there are more than 20 restaurants where grilled seerfish tops their menus in this street.
KRW 6,000 for a Seerfish for 20 Years
All the eateries in the street have maintained the surprising price of KRW 6,000 for a cooked seerfish for 20 years. The secret is that they have formed an association, which purchases seerfish for them at reasonable prices. In many locations around the country, eateries compete against one another about which restaurant started a dish particularly popular in that location and which TV programs their dishes were featured. Their signboards are full of such information. That is not the case here. The reason is that shopkeepers have agreed not to do so in this street. Such decency of the shopkeepers must be one of the reasons that the street is loved by so many people from near and far.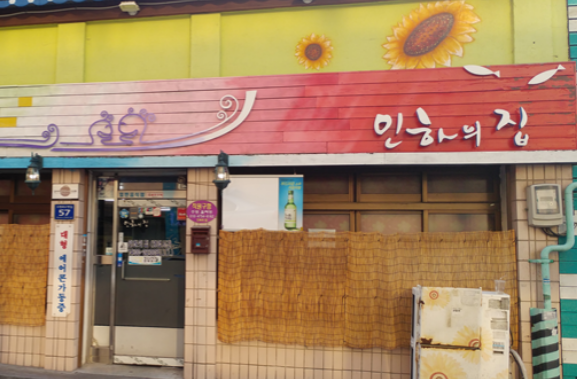 The best match for a skillfully grilled Seerfish is Soseongju! When I die, bury me under a big liquor jug.
It may spill if I'm lucky.
The taste bud arousing smell of perfect golden brown spearfishes
Smoke from seerfish fillets being grilled
Employees running around, shopkeepers roasting spearfishes continually
Laughter of the young low on dough
Middle-aged men sipping drinks after making impassioned speeches
That is a typical scene in eateries in Seerfish Street after work.
What is a good match for grilled Seerfish? It is makgeolli. It is out of the question. Soseongju, the most famous makgeolli made in Incheon, tops the list. Seerfish Street once housed 'Daehwa Distillery' that produced the original type of soseongju makgeolli. It is due to the fresh tasty makgeolli from the distillery that Seerfish Street has prospered, according to a shopkeeper.

P.S. Grilled seerfish is good as a side dish to go with alcoholic drinks. Yet it is also good with a bowl of rice. Dip a piece of well grilled seerfish into soy mustard sauce. It is indeed a perfect match.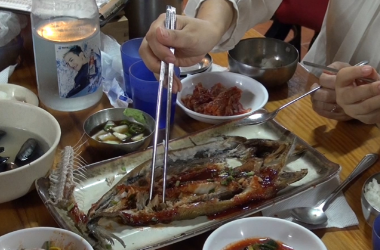 The Neighborhood of Seerfish Street is an Open Museum!
There is no better place than Dongincheon to satisfy both of those who would like to have a history tour and a gourmet tour at the same time whether the tour is one-day trip or a two-day excursion. Dongincheon retains the scenery of what Korea was like a few decades ago, so much that it was a filming location for numerous local TV dramas and movies such as "Reply 1988," "Take Care of My Cat" and "Failan."
Dongincheon continued to thrive from 1876 when Incheon Port became an open port to foreign powers through the end of 1980s. It has now resurrected as a town of history and culture with plenty of attention from citizens because it has succeeded in keeping its historical appearances intact.

China Town is always crowded with tourists. Take just a few steps from the area. You will find numerous places that will make you reflect on yourself for a while. The places that you have to visit in Dongincheon include Naeri Church which is the country's very first church, Dapdong Cathedral, Jayu Park, Sinpo Market, the Modern Architecture Museum, the Incheon Open Museum, Incheon Korean-Chinese Cultural Center, the Jjajangmyeon Museum and the Museum of Korean Modern Literature. To exaggerate a bit, it might take two or three days to list up all the places worth seeing in Dongincheon, whose streets are full of historical and cultural value. Thus it is strongly recommended to have a tour of the neighborhood and try to understand the historical and cultural backgrounds of Dongincheon before tasting grilled seerfish and makgeolli in one of the eateries in Seerfish Street.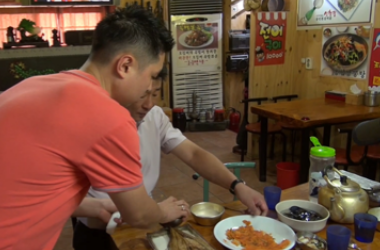 Let's leave now! "It rains outside. I want to meet my old friends and have a drink with them." Why don't you get out and come to Dongincheon? Enjoy cultural tourism. Taste the unique delicacy of grilled seerfish that Seerfish Street has to offer. Revel in the mood of a makgeolli bar, simple and comfortable, like how all things were in the 1970s and 1980s in Korea.