Explore
Different Feelings, Neighborhoods in Incheon
Different Feelings, Neighborhoods in Incheon
Alleys of Incheon - the Joys and Sorrows of Life - 2
Alleys in Baekmajang and Sipjeong-dong
Feel the joys and sorrows of life in alleys of Incheon, which hid special stories. The second time
Baekmajang alleys where you can see the traces of Japanese colonization and the U.S. army's station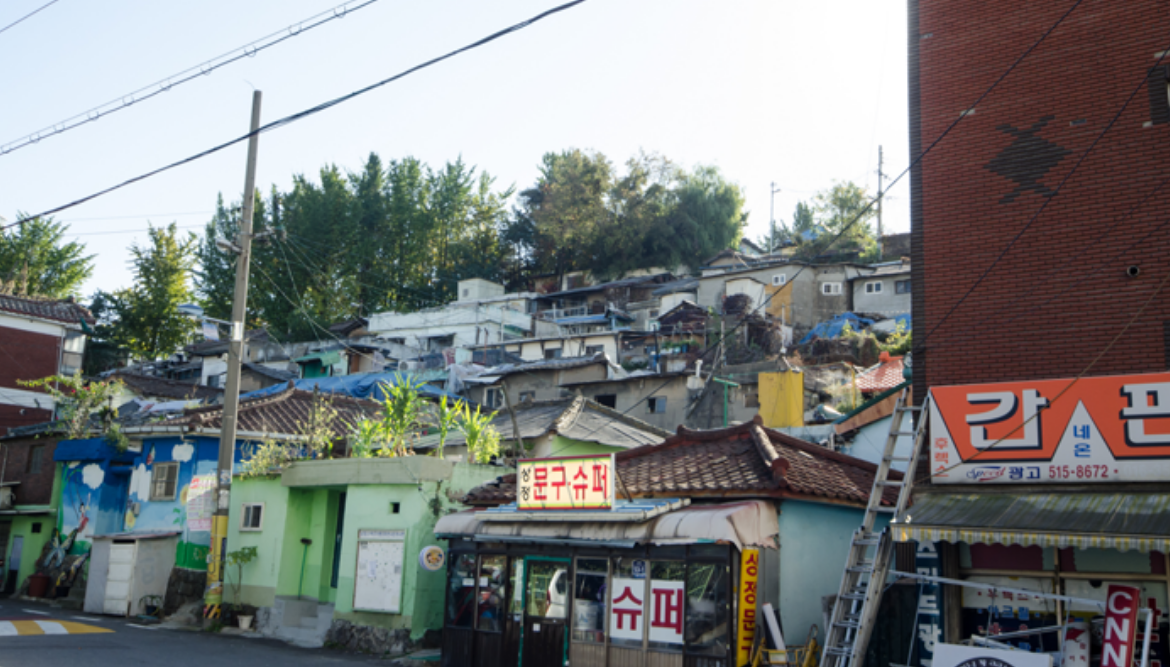 Baekmajang is a location in which fed on horses in the Joseon Dynasty. It was also called Majang or Baekmajang. Since the liberation, people began to call it Sangok-dong, but Baekmajang is still familiar to Incheon citizens.
During the Sino-Japanese War, there was a supply base in Baekmajang. After the independence, the U.S. army stationed there.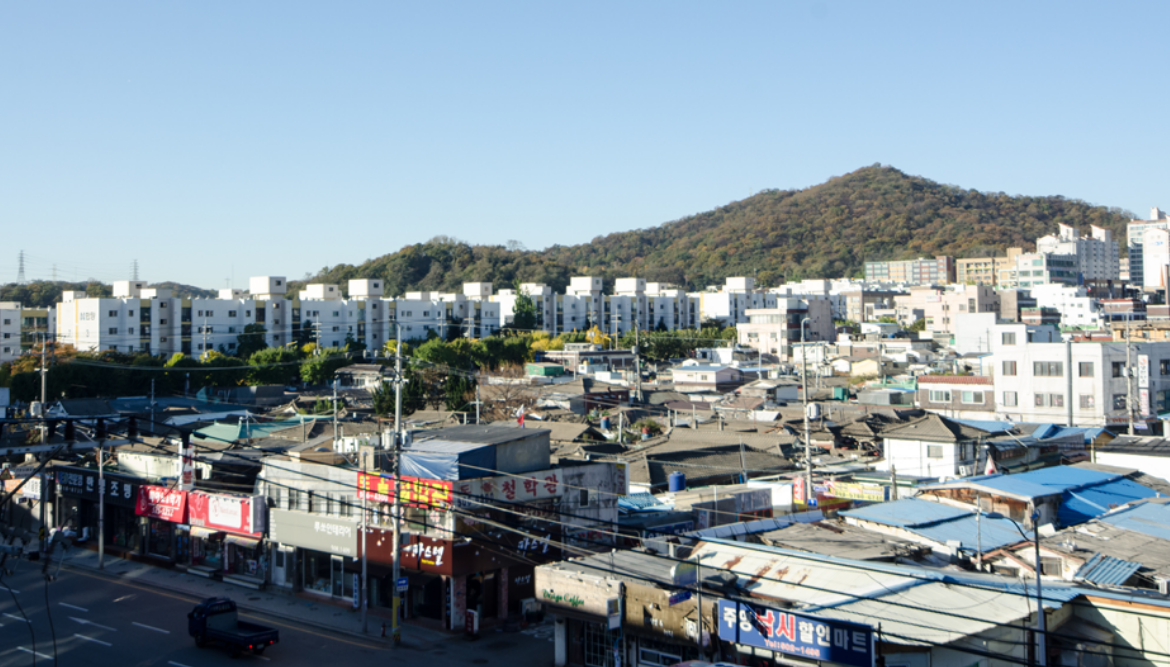 In a farming village at the foot of Cheolmasan Mountain, quarters of employees, camps, and military camp town formed. The evidence still remains in the alleys.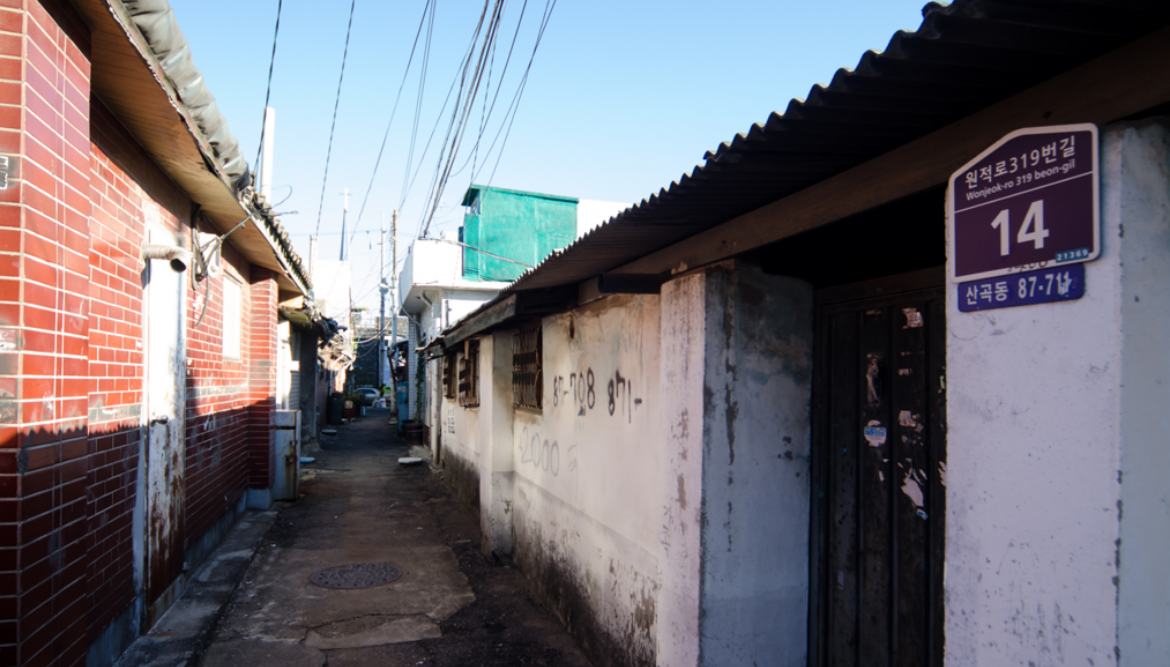 Across the street from Lotte Mart, there are about 10 alleys, which are as precisely as a square and looks endless. The houses were built by Japanese authorities in 1941 for workers at arms factories and supply bases. But the houses were no better than concentration camps.
To reduce cost and period, 6 to 12 houses were shared by one tile-roof.
The remnant is still obvious.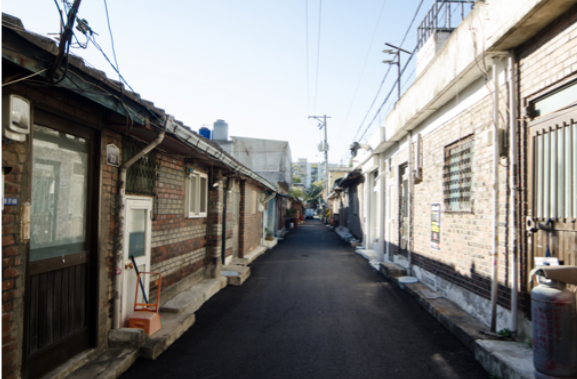 Alleys in a shantytown, Sipjeong-dong embracing the joys and sorrows of eras
Stepping up steep stairs and walking up narrow and winding paths, you can reach a shantytown which overlooks Bupyeong. Here is Sipjeong-dong, which means a town having 10 wells.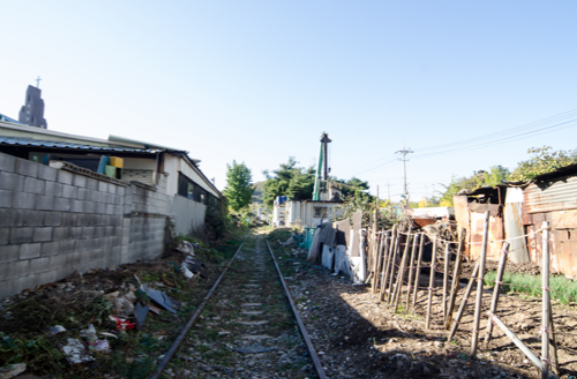 There are many stories for the origin of the name: taking its name from ten (sip) wells; a place where mountain ranges are crossing (sipja); and an unfrozen fountain, a heating (yeol) fountain have the town got the name. Yeol and 10 are homophone in Korean.
The town keeps many stories as the explanations of its name.
The town was originally pear fields and salt farms. During the Korean War, refugees and lepers, and from the late 1960s and early 70's, the displaced from Manseok-dong, Juan, and Seoul gathered here and shaped a shantytown. Lower houses along the contour of a mountain look like the accumulated joys and sorrows of the refugees and the urban poor.
A leper poet Han Ha-un, who appears "Historical persons influence Incheon history," also lived here.
Alleys of the town are well-known for a mural village as well. The murals are an outcome of "Yeolwoomul-gil project in 2002," the beginning of mural movements in Incheon.
Young artists who participated in the project not only painted the murals. They became old brothers and sisters for children from double-income or broken families and animated the town. Every mural has their stories.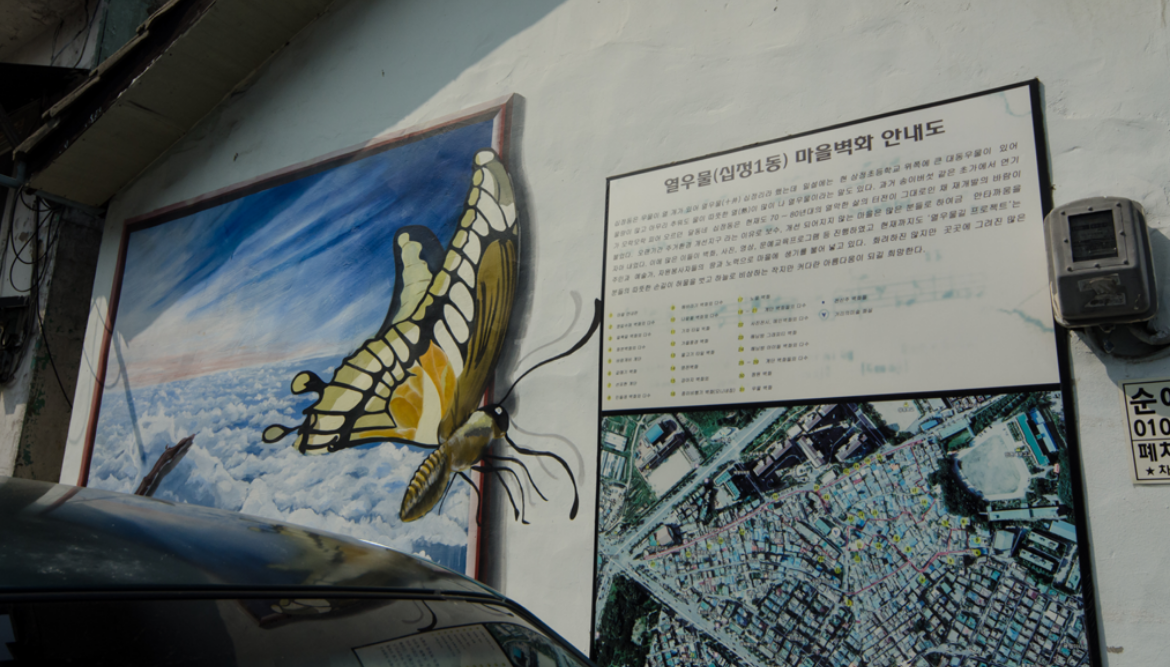 A movie "Secretly, Greatly," in which K-wave star Kim Soo-hyun, a North Korean revolution warrior plays a village fool in baggy sweat suits, was set in the alleys. In the movie, Sipjeong-dong is viewed as more than a background. A spy Dong-gu with no place to go overlaps with the alleys in the town which will be soon disappeared by new stay and re-development.
Let's cherish the alleys and murals, which embrace the joys and sorrows of the times, before too late.
How-to-get to the Sipjeong-dong alleys (13-1 529 beon-gil Baekbeom-ro Bupyeong-gu, Incheon)

1. Take a walk to Yeolwoomul crossroads at Exit 2 of Baegun Station, Line No. 1
2. Get off at the front of Bupyeong Kumho Eoullim Apt. and take a walk