Explore
Incheon Stories
Enjoy "European Football" in Incheon
Incheon Soccer-Specific Stadium, Sungui Arena Park
Along with jajangmyeon (Noodles with Black Soybean Sauce) or jjolmyeon (Spicy Chewy Noodles), many things that we like and enjoy begin in Incheon. The two most favorite sports of Korean, football and baseball, are also introduced through Incheon. It is known that football was introduced by British soldiers and sailors in 1880s. They had matches at Jemulpo, which are the first game in Korea. A British literature "Morning Calm" in 1901 confirmed that Ganghwa School had a football club. Fortunately, Incheon citizens and whoever visit Incheon can comfortably enjoy the two top sports – football and baseball. At present, we cannot say a football club, Incheon United and a baseball club, SK Wyverns are the best. But we are sure that their home stadiums are unparalleled.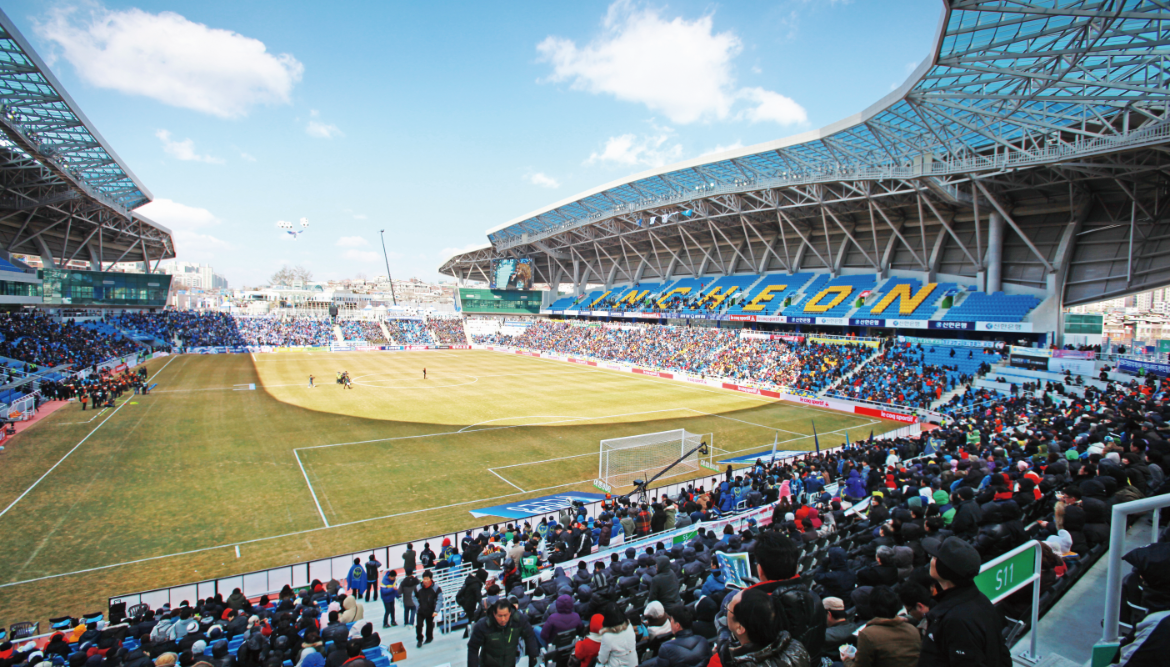 Especially, Incheon Soccer-Specific Stadium, Sungui Arena Park, opened in March, 2012, is an excellent stadium which can be equal to a European stadium. Though it cannot be comparable to the large-scale stadiums built for 2002 Korea/Japan World Cup, it is not an exaggeration to say that it overwhelms other football stadiums in every aspect for "genuine stadium" except for scale.
Incheon Soccer-Specific Stadium is located in Dowon-dong, Jung-gu. Many football fans called the Stadium as "Sungui Arena" or "Sungui Arena Park," before Incheon United in K-League Classic began to use it as its home stadium during 2012 season. The address of the park is not Sungui-dong but Dowon-dong. Once soccer fans catch a name, they tend to stick to it. In fact, the name does not matter. What if Jun Ji-hyun and Won bin used their real name, Wanng ji-hyun and Kim Do-jin? It's nothing. Fans just take pride in the fact that Incheon has such a nice park. But instead of the dry name, Incheon Soccer-Specific Stadium, I hope, more fresh and nice name would be come up with sometime.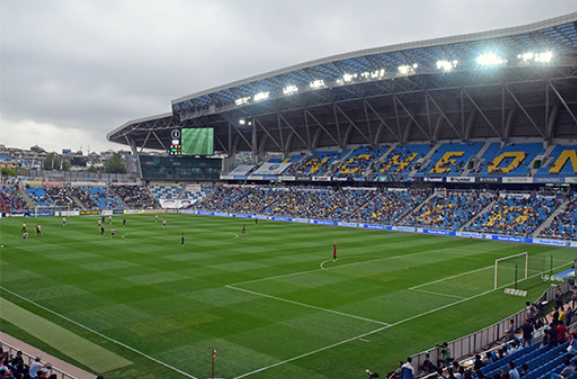 It has a good accessibility, just 3 minutes' walk away from Dowon Station of Subway Line No. 1. It can rival any stadiums, but in terms of location, it is the top in Korea. Coming out of Exit of the subway and cross the street, the Stadium will appear. Though it looks small – the seating capacity of 20300, its silver-color design is outstanding. Horseshoe-shaped silver roof surrounds the grand stands which have two colors – blue and black, the team color of Incheon United. A transparent observatory stands at the north side of the Stadium with the height of 27 meters. It overlooks the whole Stadium and neighboring areas. You can visit before entering the Stadium, if you want to see the view.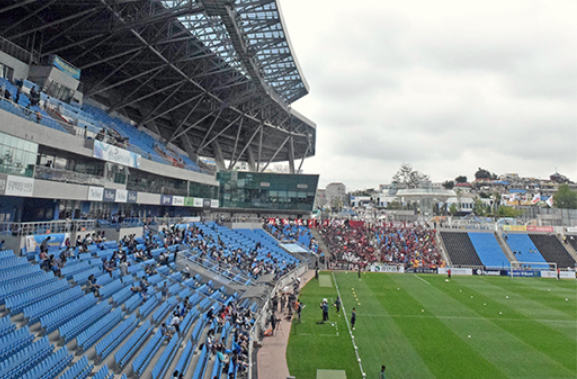 Most of all, the top advantage of the Stadium is to be an optimal park to watch games. In short, it is the most suitable place for the modification of "cutting-edge European-style stadium." You can feel the atmosphere of European soccer right here. For soccer, "Europe" is an old cliché, but it can be the most suitable to describe soccer-related things. Please forgive the redundancy. There are some parks which have unique and heated atmosphere – Pohang in Gyeongsang-do, Jeonju, Jeolla-do, and Suwon, Gyeonggi-do. But none of them have the identity of "cutting-edge stadium" of Incheon Soccer-Specific Stadium.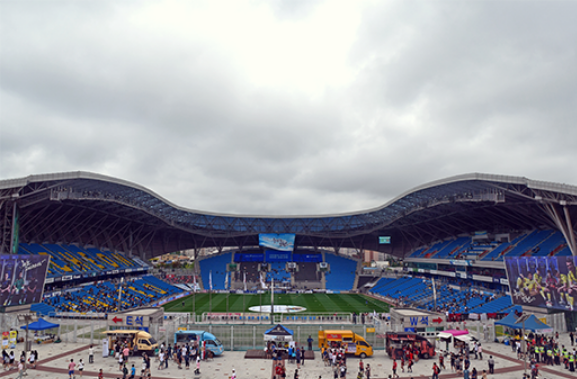 They say "can hear the players' breathing sounds" for a stadium in which ground and grandstand is very close. Usually, it is kind of an overstatement. But Incheon Stadium, it is safe to say that because it is just 1 meter away where the touchline of ground and stand has the shortest space. For someone who is quick to hear, it can be real. Technically speaking, it is not breathing sound but a cry from a physical contact or curse against judges' decision.
Along with Steel Yard in Pohang, Incheon is said to have the shortest distance between ground and stand. Depending on the measuring point, it can be different. Personally, when based on the distance from right behind a goal mouth, Pohang is closer. But overall distance from stand is closer in Incheon. Accordingly, fans can enjoy more exciting matches on site. But we cannot mention it a European style just in light of the distance. Gwangyang Soccer-Specific Stadium in Jeonnam and Changwon Football Center in Gyeongnam also have short distance between ground and stand.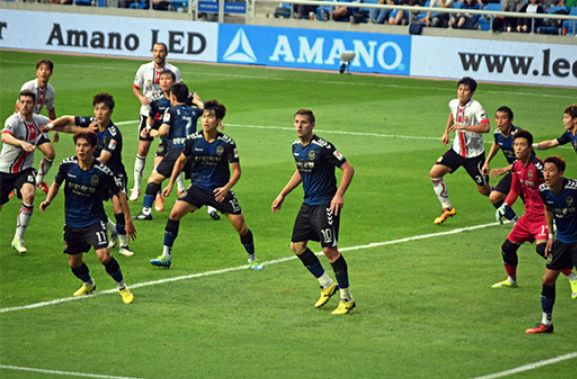 One of the main features of Incheon Stadium is to put the bench into the stand. In most of the stadiums, watching a match from the 1st floor of box seats is hindered by the bench, which is built on the ground. But Incheon Stadium has a different story. It reminds fans of the stadiums of English Premier League. Recall the scenes of a spectator rubbing coach Ferguson on his shoulders, and fans waving hands at the coach heading toward the locker room. There is vitality in Incheon Stadium. Players, coaching staff and spectators are matching together. As many soccer fans know, the Stadium took Bolton Wanderers Macron Stadium (former Reebok Stadium) as its model. Soccer player Lee Cheongyong ran at Macron Stadium. European style stadium is not empty words.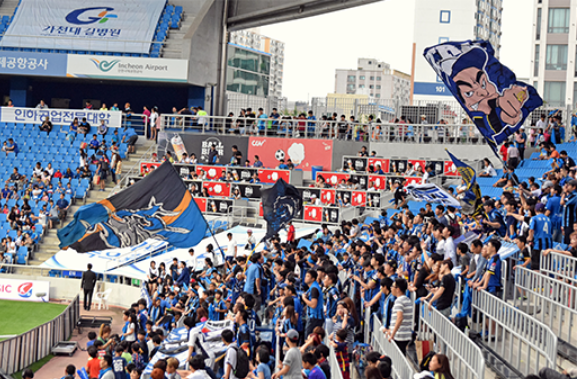 While Incheon Stadium claims to become a European soccer stadium, it also pays attention to other stadiums' advantages. Both corners at the Stadium have many tables for couples. The admission fee includes canned beer and light snacks. They enjoy beer with chicken, as they do in baseball stadium. There is a wide lawn on the second floor of north stand, which is the first picnic seat in the nation. Many children are playing around in the zone. Facilities outside the Stadium – a fountain, benches, fitness equipment, and playgrounds serve as a rest stop for citizens off days.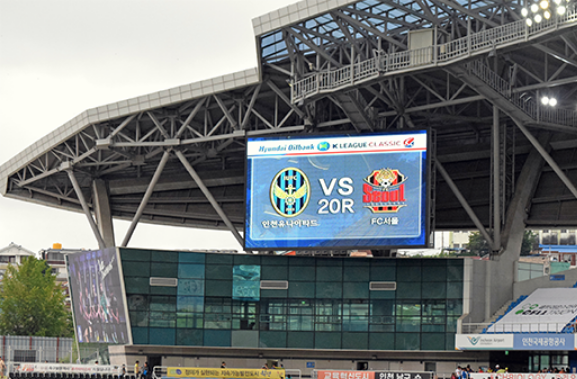 It enters its fifth anniversary this year. But many people don't know its existence. Sungui Arena Park, where visitors can get rid of stress while watching matches, can be a new tourist attraction of Incheon. They say about 20% of tourism revenue are directly and indirectly associated with sports. Many think global events like Olympics or World Cup. But going abroad to watch the big events held every 4 years is not everything of Sports Tourism. Upon interests and ideas, the team and stadium in our home-town can be a tourism item. If you are asked what the representing tourist destination in Incheon, you may have several things to name. But what about the entertainments? It is not an easy question. Incheon United's match in Incheon Soccer-Specific Stadium will be an answer. I hope that you reply "Incheon is the birthplace of soccer in Korea, and has the best Soccer-Specific Stadium in Korea."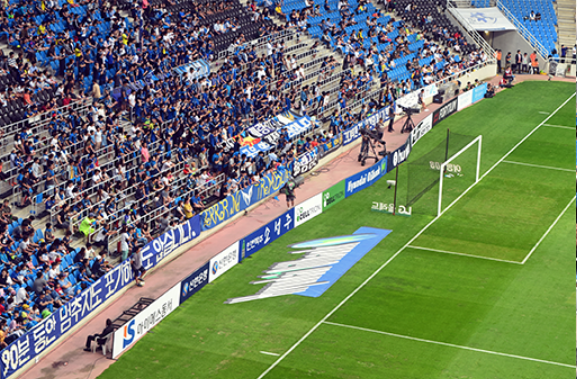 * Usually Korea Pro-Football, K-League is held from March to November. You can check the schedule and make a reservation via Incheon United's homepage (http://www.incheonutd.com). Admission fee varies in seats. The most moderate price is 10000 won for adults, 6000 for teenagers and 3000 for children.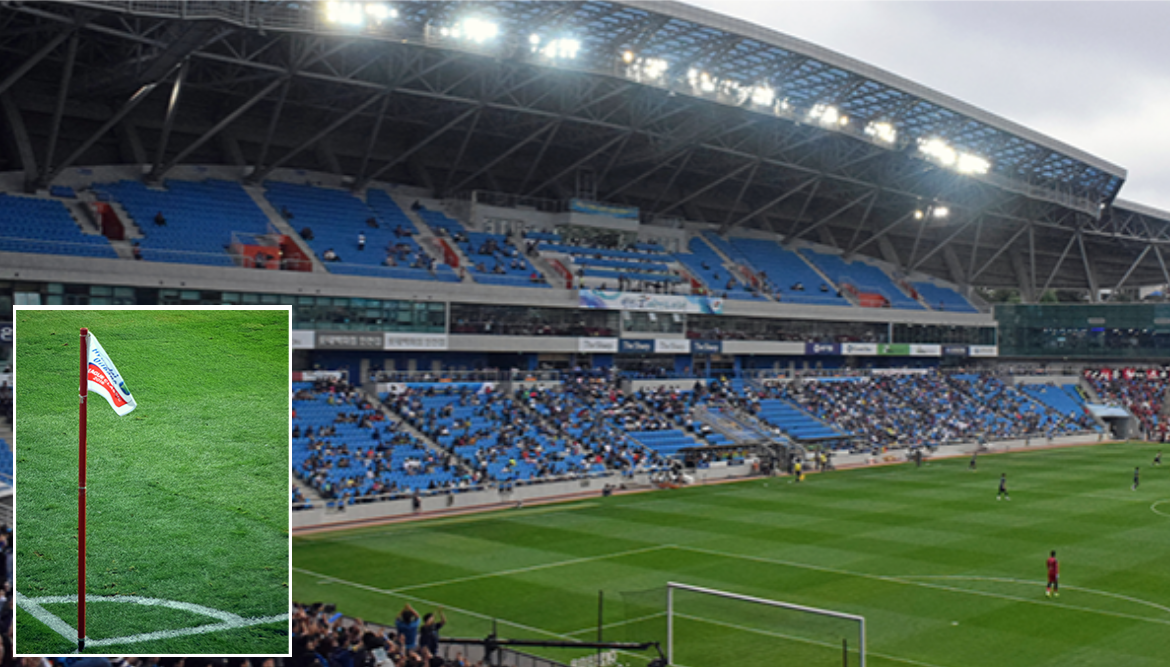 Incheon Soccer-Specific Stadium(Sungui Arena Park)

Club: Incheon United
Location: 246 Chamoejeon-ro (Dowon-dong) Jung-gu, Incheon
Transportation: 3 minutes' walk from Dowon Station of Subway Line No. 1
Seating capacity: approx. 20300
Opening: March, 2012