Explore
Incheon Stories
Enjoy "European Football" in Incheon
Incheon Soccer-Specific Stadium, Sungui Arena Park
Along with jajangmyeon (Noodles with Black Soybean Sauce) or jjolmyeon (Spicy Chewy Noodles), many things that we like and enjoy begin in Incheon. The two most favorite sports of Korean, football and baseball, are also introduced through Incheon. It is known that football was introduced by British soldiers and sailors in 1880s. They had matches at Jemulpo, which are the first game in Korea. A British literature "Morning Calm" in 1901 confirmed that Ganghwa School had a football club. Fortunately, Incheon citizens and whoever visit Incheon can comfortably enjoy the two top sports – football and baseball. At present, we cannot say a football club, Incheon United and a baseball club, SK Wyverns are the best. But we are sure that their home stadiums are unparalleled.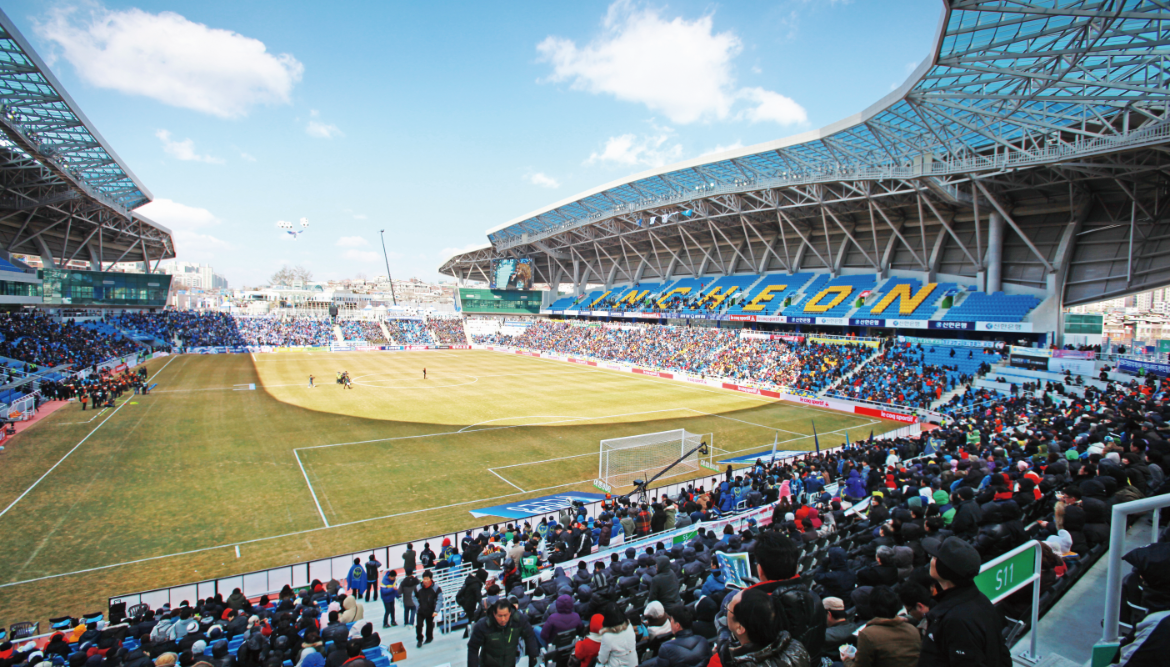 Especially, Incheon Soccer-Specific Stadium, Sungui Arena Park, opened in March, 2012, is an excellent stadium which can be equal to a European stadium. Though it cannot be comparable to the large-scale stadiums built for 2002 Korea/Japan World Cup, it is not an exaggeration to say that it overwhelms other football stadiums in every aspect for "genuine stadium" except for scale.
Incheon Soccer-Specific Stadium is located in Dowon-dong, Jung-gu. Many football fans called the Stadium as "Sungui Arena" or "Sungui Arena Park," before Incheon United in K-League Classic began to use it as its home stadium during 2012 season. The address of the park is not Sungui-dong but Dowon-dong. Once soccer fans catch a name, they tend to stick to it. In fact, the name does not matter. What if Jun Ji-hyun and Won bin used their real name, Wanng ji-hyun and Kim Do-jin? It's nothing. Fans just take pride in the fact that Incheon has such a nice park. But instead of the dry name, Incheon Soccer-Specific Stadium, I hope, more fresh and nice name would be come up with sometime.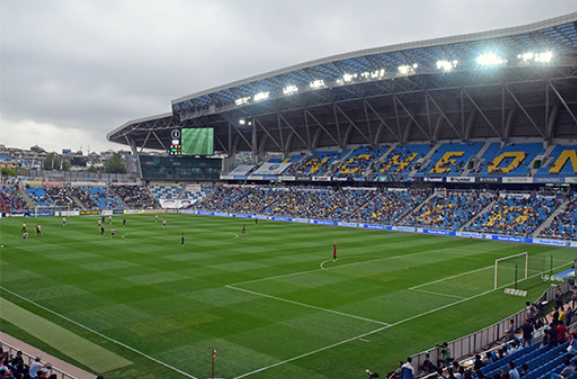 It has a good accessibility, just 3 minutes' walk away from Dowon Station of Subway Line No. 1. It can rival any stadiums, but in terms of location, it is the top in Korea. Coming out of Exit of the subway and cross the street, the Stadium will appear. Though it looks small – the seating capacity of 20300, its silver-color design is outstanding. Horseshoe-shaped silver roof surrounds the grand stands which have two colors – blue and black, the team color of Incheon United. A transparent observatory stands at the north side of the Stadium with the height of 27 meters. It overlooks the whole Stadium and neighboring areas. You can visit before entering the Stadium, if you want to see the view.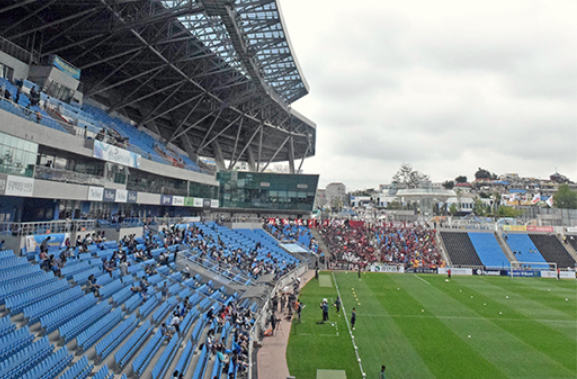 Most of all, the top advantage of the Stadium is to be an optimal park to watch games. In short, it is the most suitable place for the modification of "cutting-edge European-style stadium." You can feel the atmosphere of European soccer right here. For soccer, "Europe" is an old cliché, but it can be the most suitable to describe soccer-related things. Please forgive the redundancy. There are some parks which have unique and heated atmosphere – Pohang in Gyeongsang-do, Jeonju, Jeolla-do, and Suwon, Gyeonggi-do. But none of them have the identity of "cutting-edge stadium" of Incheon Soccer-Specific Stadium.