Explore
Incheon Stories
Let's Have a Real Fun. Yay!
Bupyeong Pungmul Festival
Bupyeong Pungmul Festival is a representing festival in Incheon. It has been selected "the performing art festival" of the region for three consecutive years. Every fall, the festival makes the downtown of Bupyeong a festive scene filled with the sound of Pungmul (farmers' music) – drums, double-headed drums, gongs and small gongs, bugles, taepyeongso (big piece wind instruments), and more.

Change the version and aspect of festivals! "Pungmul, institutions and customs in a certain area" is a communal culture that tells us to have fun, feel humans and share the spirits.
It is energy for hard work, a party in which we share the joys and sorrows, and a festival that we make a wish of safety and blessing.
In the Festival, all participants feel brotherhood and get sufficient energy to get over the adversities through Pungmul and play, which have been with us for more than 5000 years.
The opening ceremony,"Goyuje" at Bupyeong Pungmul Festival
The festival begins with "Goyuje." It is one of traditional rites, which signifies the start of the Festival.Everyone who has prepared the Festival gathers to perform a rite with a prayer for a success. It is a ceremony to hand down the spirit of the Festival to preserve the tradition and live on it.
Celebrating concert, "the Festival Eve Concert"
To celebrate the eve, a special concert is held every year. Many people crowd Sinteuri Park and hillside near the Bupyeong-gu office to see the concert.
The show features many domestic top performers and attracts many fans.Everyone wishes a big success while enjoying the Festival Eve Concert.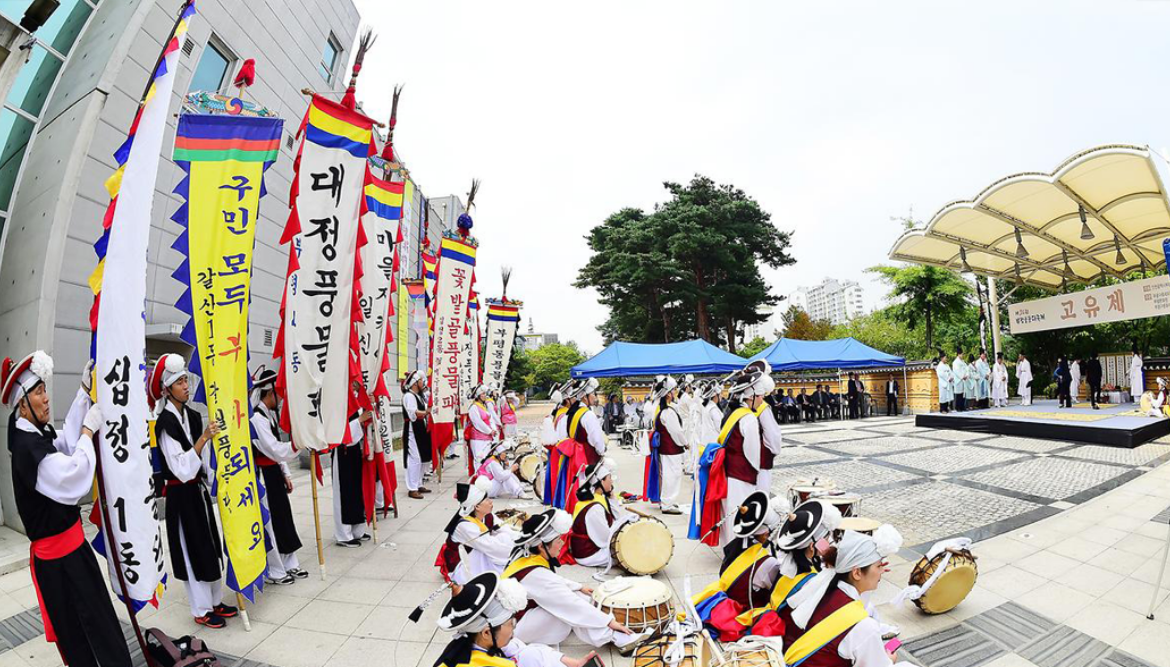 A street festival that comes closest to spectators
An 8-lane thoroughfare is a stage, itself. Bring drums or double-headed drums along to the main street of Bupyeong.
You can bring anything to beat instead of drums. Visitors can meet a unique disorder which enables everyone to get together and be enthusiastic in the middle of a big road.
Many performance groups home and abroad, who have both popularity and artistry, are participating in the street festival. The large-scale parade of more than 1000 participants including performance teams and citizens highlight the festival.
Visitors can also enjoy various interactive courses for tradition – experiencing Pungmul, traditional play, and more.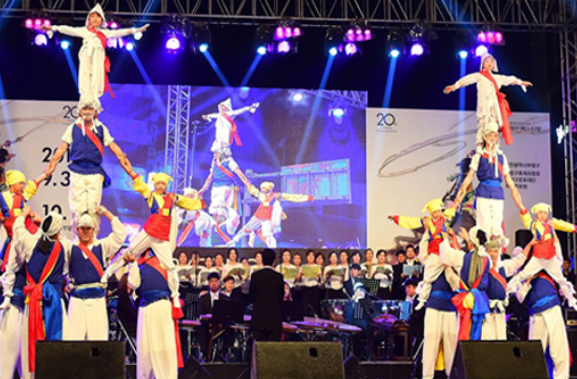 Face the traditional culture, "performance arts festival"
Various artists in Incheon and Bupyeong perform a concert on the main stage. They specialize in Pungmul, Korean classical music, and percussion.
Invitation performance of intangible cultural properties, which is the backbone of the traditional festival, is a good opportunity to see them in person. The "performance arts festival" shows its characteristics of various genres and street performance.
The Festival is accompanied by some competitions such as National students Pungmul contest and Pupyeong Korean traditional music contest. Bupyeong street food market is also a must-visit.