Explore
Incheon Stories
Don't Envy Fancy Water Parks:
Come to Free Public Water Parks in Incheon
In summer, having fun in the water is the best leisure activity!Here are three free swimming pools in Incheon that your kids would love to play in.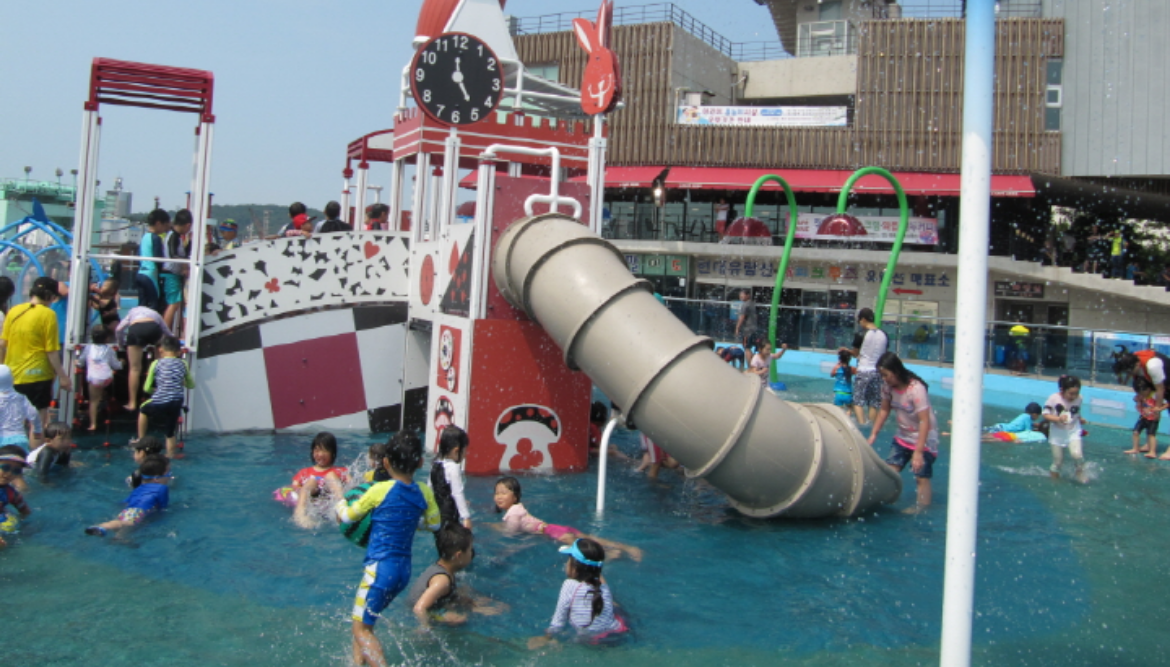 1. Yeonsu Cultural Park (Saemal-ro, Yeonsu-gu, Incheon, Republic of Korea)
A park playground has turned into a public water park. You don't need to worry about shade canopies. There are plenty of big trees nearby. Just bring a mat. There are several pavilions and low wooden benches nearby. You will need some light clothes to change as well as towels. You can set up tents or shade canopies if you want to say there for a long time, too.
There are lifeguards holding dragonfly nets. They watch out for accidents at all times! It turns out that they are trying to take fallen leaves and other things from the water park with the nets. Of course, they pay keen attention to the safety of children inside the water park. Whenever children seem to get involved some type of risky acts, they immediately notice and give warnings to prevent any accidents beforehand. Because water is replaced every day, the water park looks as clean as it could be. The reason is that every Monday the water park is sanitized, and water quality is tested as often as possible. Parents can bring their children to the pool with no concern at all.
Korea is the best place on Earth to order food from restaurants wherever you are. The water park area is not an exception. You can make a call for pizza or jajangmyeon (noodles in black bean sauce) and enjoy it in the neighboring area. There is no designated parking space. There is a bus stop not far from the entrance, so you may use public transportation.
Hours of Operation: 10:00-17:00
(Closed on Mondays) The water park is exclusive for children of 13 years or younger
Public Transportation: Subway (Use Yeonsu or Woninjae Station), Bus (Get off at Yeongnam Apt. Bus Stop, Bus No. 523 or 780)
2. Busuji Park (Gyeongwon-daero, Yeonsu-gu, Incheon, Republic of Korea)
There is a hidden water park in our neighborhood. It is called Busuji Park. Compared to other water parks in the city, it is the least crowded, which makes it extremely attractive.
You can set up your own tents at one side of the water park.
Cooking is prohibited, but you can bring in some snacks and drinks.
What if your kid has to use a toilet while playing in the water park? Don't worry. There is a clean toilet in the park nearby.
The restroom at the park is maintained clean for a convenient use.
Children in the water park are protected by two lifeguards dressed in yellow uniforms. With the lifeguards, you feel completely certain of the safety of your kids. The water park is also equipped with first-aid kits with enough emergency medicine.
The water park is not as big as you might imagine. You can use the public parking of the Dongchun-3-dong Community Service Center. There are also a bus stop and a subway station nearby.
Hours of Operation: 10:00-16:00
(Closed on Mondays) The water park is exclusive for children of 13 years or younger.
Public Transportation: Subway (Use Dongchun Station.), Bus (Use the Yeonsu-gu Office bus stop; Bus No. 4, 6-1, 16, 27, 34, 46, 63, 112)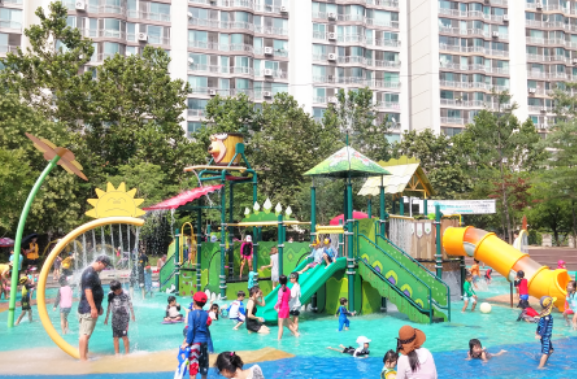 3. Marine Square in Yeonan Pier
Marine Square in Yeonan Pier is situated along the shore, so your kids can play while enjoying a sea breeze. Water pours out of containers made in the shape of oak barrels. Kids below them shout their lungs out with joy. Compared to others, this water park is big and runs late in the afternoon (until 19:00).
It also features shade canopies and changing cubicles. You can set up your own tents in the premises as well.
The view of Yeonan Pier is a bonus. You are allowed to use convenience facilities. There are lifeguards working for the water park, too. Safety is the most important factor when children play in the water. Near the water park are a 4D movie theater, St. Petersburg Square, and water fountains that feature colorful fountain shows at night. You can use the huge Yeonan Pier parking lot. Public transportation is also convenient to get to and from the location.
Hours of Operation: 10:00-19:00
(Closed on Mondays and rainy days)
Public Transportation: Bus (Use the Yeonan Passenger Terminal bus stop: Bus No. 24, 27, 36)