See&Do
Islands of Incheon
Korean version of Galapagos,
Guleopdo Island
There is an island called the Korean version of Galapagos. The island looks like a person working face-down, so people began to call it Guleopdo Island.
It is so natural that visitors can bump into wild deer across the island. Black goats grazing on the island are said to be very good for your health.
Taking a ferry at Incheon Coastal Passenger Terminal, you can reach the Deokjeokdo Island.
About 20 people are living in there. Major attractions are Mt. Deokmul, Mt. Yeonpyung, Gaemeori hill, Ttokki Island, and elephant rocks. It has two beaches: Guleopdo Island and Mokgimi beach.
Natural grassland, diverse shoreline, and the fascinating views attract many photographers and backpackers.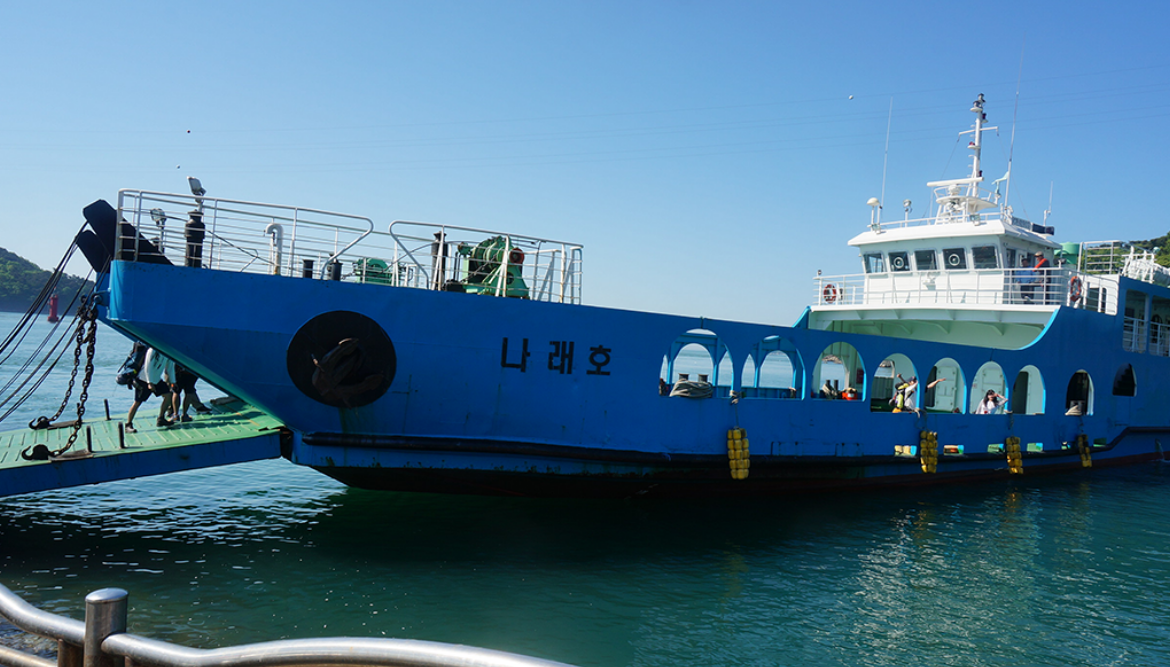 In order to get the island, you should take a trip via Deokjeokdo Island.
At Deokjeokdo Island, Narae ferry is waiting for you. Ferry plies one time a day. In recent, they increase the sail to two at weekends for growing tourists.
Please note that you should to hurry to get a ticket due to limited seats. Reservation is a must. From the middle of months, you can buy tickets on-line.
It is advisable to check the ferry schedule on the website in advance.
*Reservation: The great islands in Korea
http://island.haewoon.co.kr/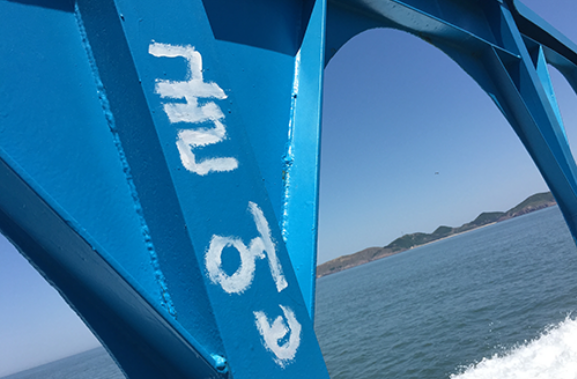 Narae ferry sails between Guleopdo Island and other islands around Deokjeokdo Island.
It has different schedules for odd- and even-numbered dates, respectively. It is suggested to enter on odd-numbered days and leave on even-numbered ones, if you want to save your time.
* Odd-numbered dates : Deokjeok → Mungap → Guleopdo Island → Baeka → Uldo → Jido → Mungap → Deokjeok
* Even-numbered dates : Deokjeok → Mungap → Jido → Uldo → Baeka → Guleopdo Island → Mungap → Deokjeok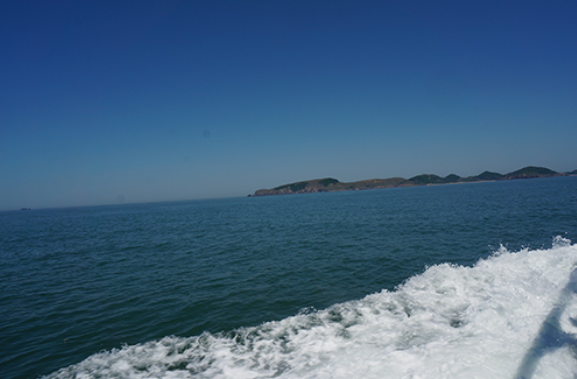 If you want to lodge at a home, contact the village foreman or Grandma Jang. The accommodation doesn't include meals, yet you can have Korean Set-menu at 8000 won per person, and purchase some goods like bottled water.
They provide free shuttle to the quay. Don't imagine a bus; it is a cute small truck.
It takes about 25 to 30 minutes to get to the village by cars.
For meal-service, reservation is required.
Mr. Seo, village foreman 032-818-3777
Grandma Jang 032-831-7833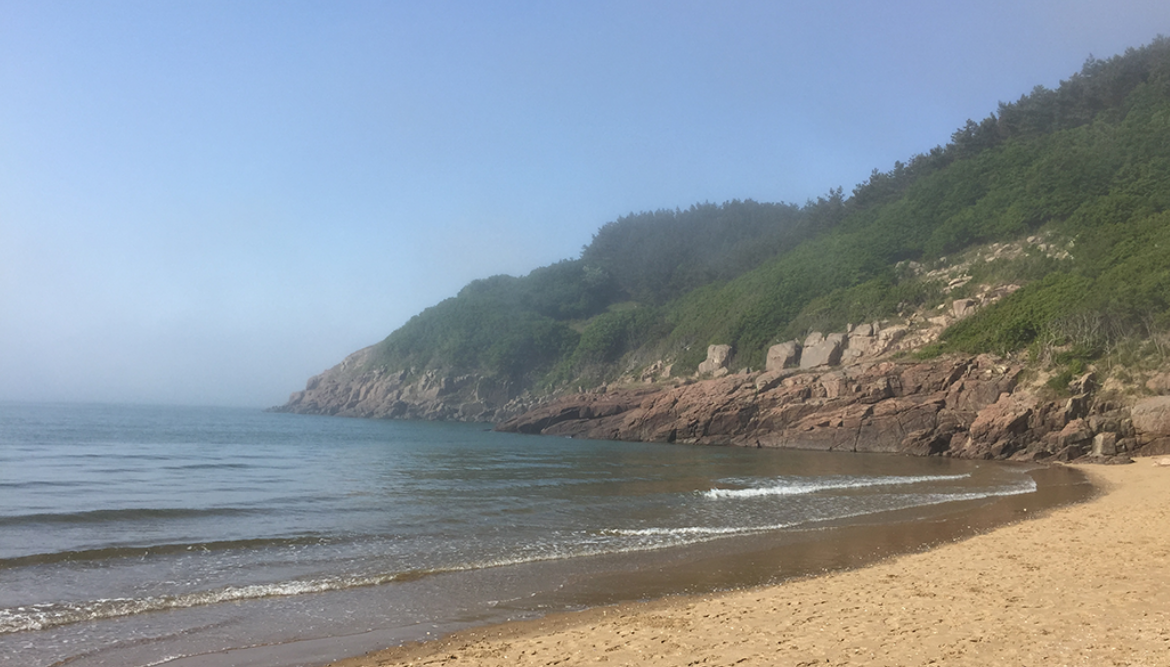 It is the Gaemoeri hill that Guleopdo Island is being called as Korean version of Galapagos. With the view of a wide field covered with fountain grasses and deer, visitors nod their heads. Passing by the village and Guleopdo Island beach (Keumal beach), you can reach the entrance of the hill.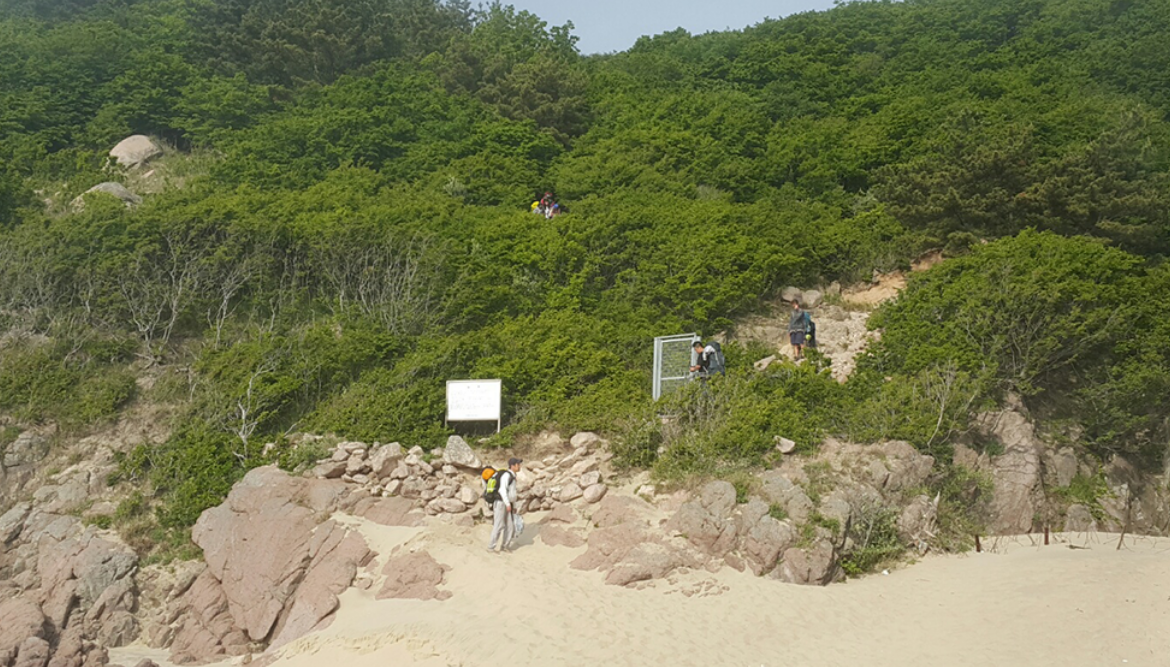 A big business purchased most of the island to build a golf course and resort. But the plan has been put off and ugly wire-fences have been neglected. All that we need is wisdom to develop something without destroying the nature.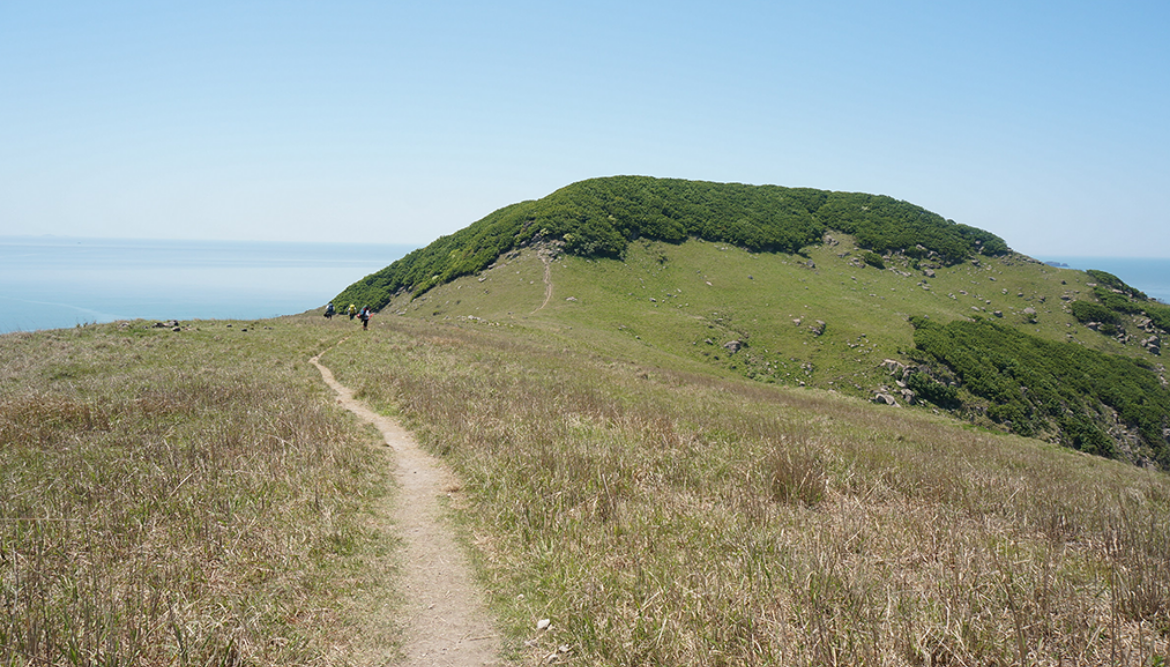 Going by the fence and climbing a hill, visitors can see a ridge of grass land. Fresh wind cools off the sweat. And beautiful scenery makes them thank here is Korea. In particular, the golden wave of fountain grass and reeds present a grand sight.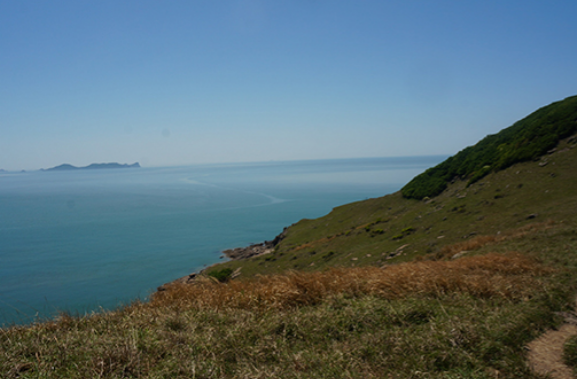 The expression of Korean version of Galapagos is not enough to describe the great landscape made by sky, sea and grassland. As long as I am here, I feel like being part of the scene.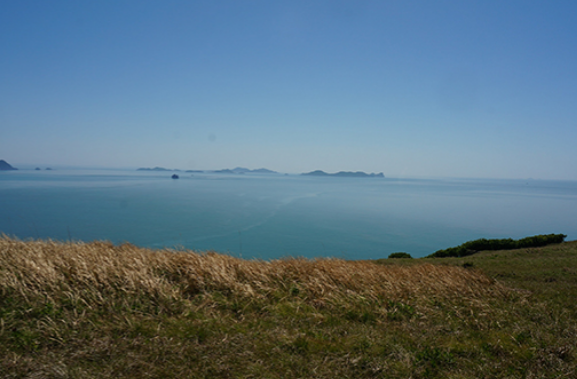 Visitors can easily spot wild deer on the site. They are not afraid of visitors. What a Mother Nature! I hope that these innocent creatures continue their peaceful life in this background and present the naturalness itself, without being harmed by our greed.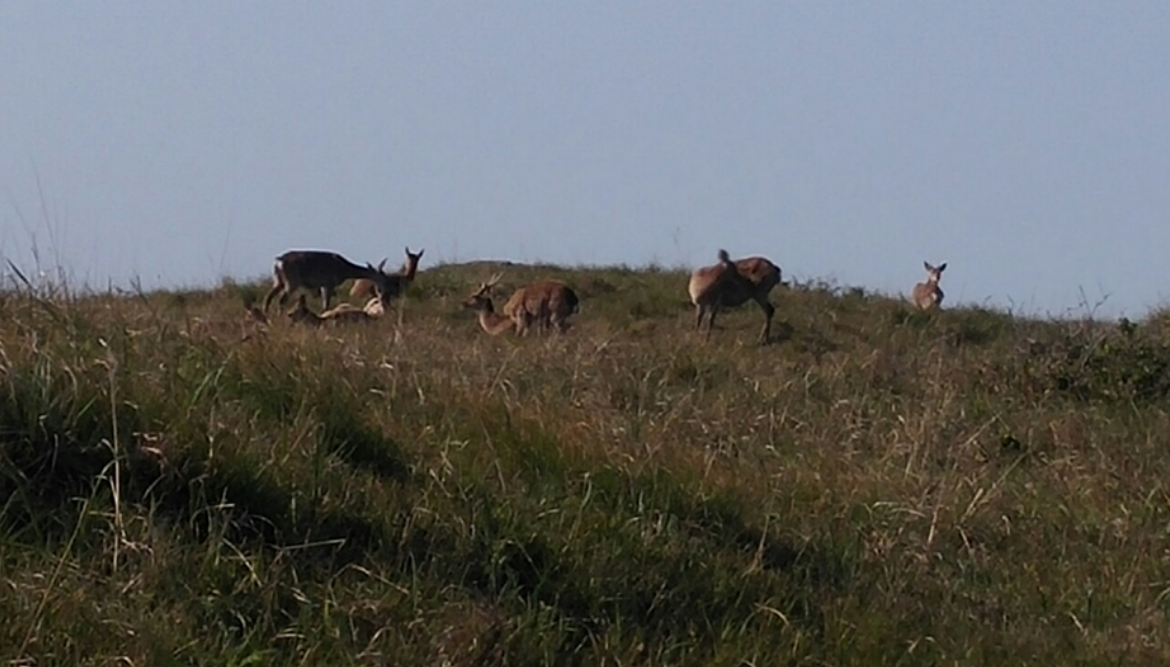 At the end of the ridge, a hill faces us. It is called "Gaemeori hill," because it looks like the head of a dog. Many backpackers are already there to enjoy the sunset against this background.
I wish they leave it cleaner than they found it.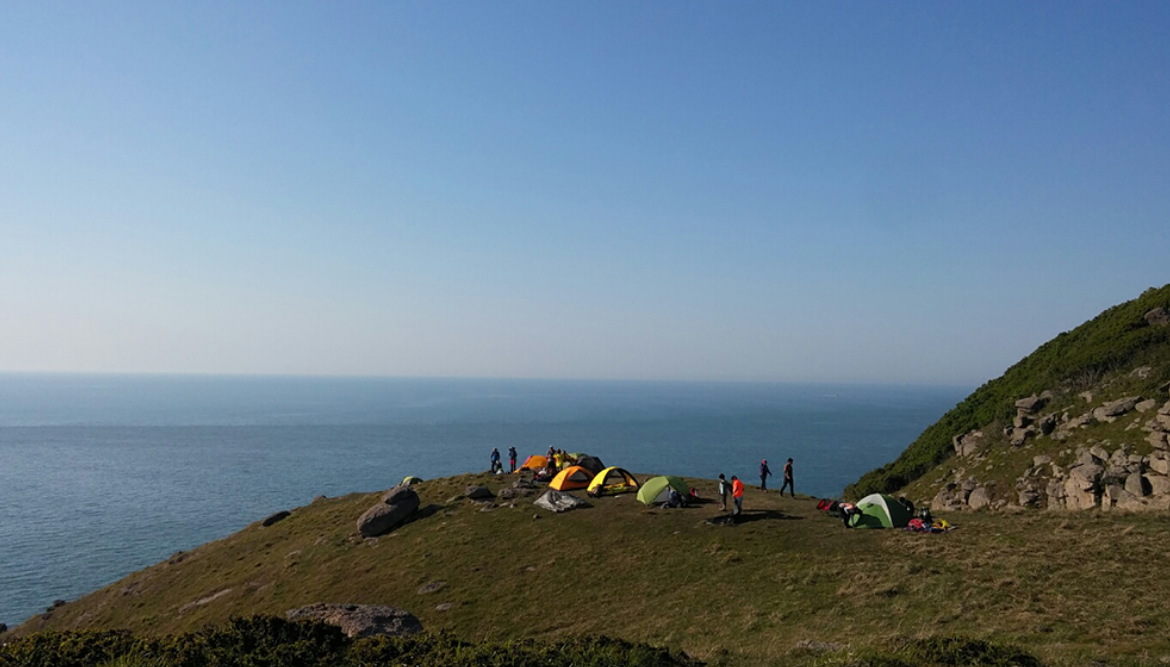 Some people are enjoying fishing on rocks under the hill.
If you are not good at fishing from the rocks on the seashore, don't try to do it for the sake of safety.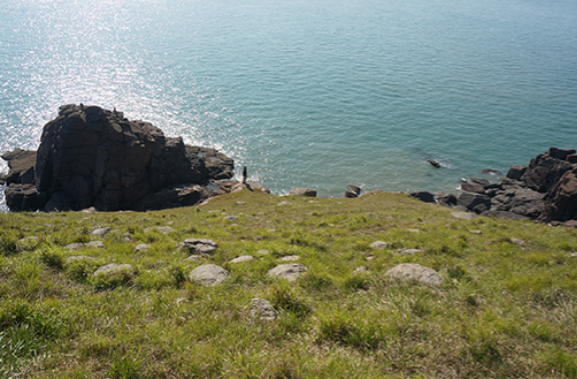 While looking around the hill, the sun begins going down. What a sunset on the West Sea! Nothing blocks our view.
The sun directly disappears over the sea. Commanding the sunset on wide grassland is true to the charming of Guleopdo Island.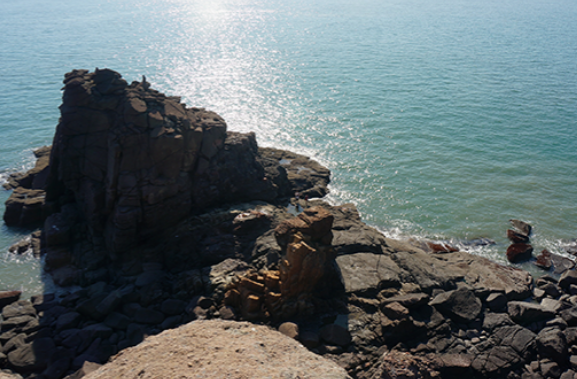 On the next day, Guleopdo Island is shrouded in a fog.
A sea fog is so thick that visitors worry the ferry sailing. The hill and grassland, however, show another fascinating appearance.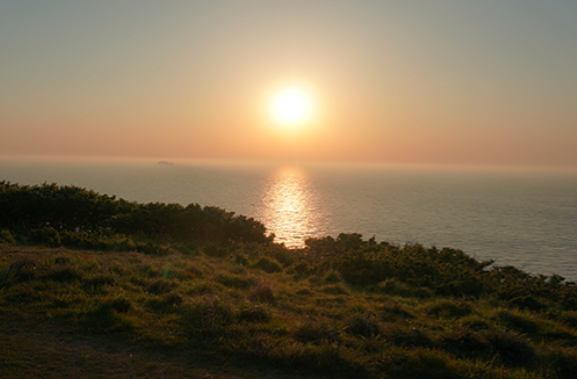 As walking to Guleopdo Island beach, the sun comes up and the fog soon lifts.
Simmering sea in the sunlight, lifting fog, and sand make me feel like being in another world.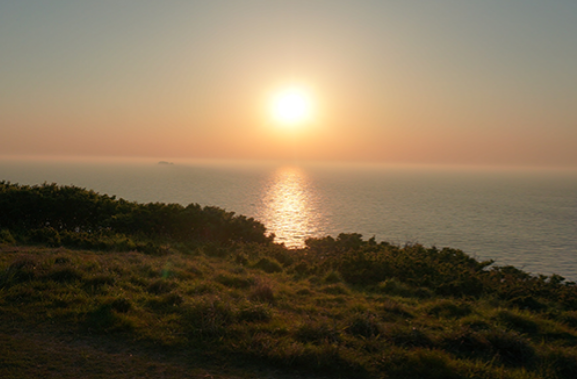 At the quay, we can see Mt. Yeonpyung and Mt. Deokmul surrounded by fogs from a distance.
Next time, I will go up those mountains and overlook Guleopdo Island.
It is said that, at there, you can see Mokgimi beach bridging the islands with the shape of a slim waist.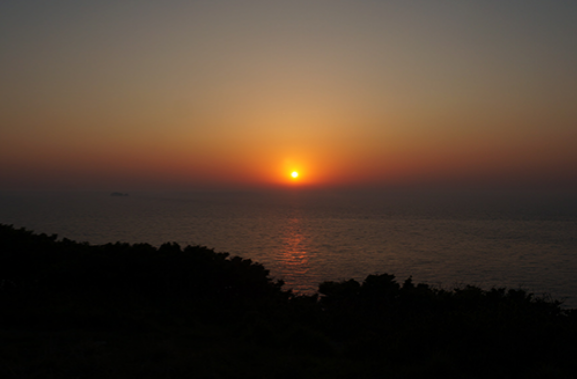 A delayed Narae ferry is approaching to us through the fog. It gives us a mixed feeling – relief and missing.
Limited access to the island – transferring, few sail and hard-to-get passage tickets may make us feel something missing.
Guleopdo Island, small but worthy two-nights-and-three-days tour!
We hope that it, as the Korean version of Galapagos, will remain there forever.