See&Do
Islands of Incheon
When Sea Opens, Another Island See.
Seonjaedo Island
The island was called Sowudo Island by the late Joseon Dynasty before it had the current name. The name Soenjae means "a beautiful and gorgeous island where a divine fairy came down and danced." It was chosen the most beautiful island in Korea by CNN.
An exotic landscape of sea and islands, which endlessly extends, and wide-open mud flat engage tourists around the year. Let's dig out the limitless attraction of Seonjaedo Island.
If you decide to visit the island, there is a must-do. That is to observe "the crossing of the sea," which happens two times a day. To the south of Seonjaedo Island, there is an uninhabited island called Mokseom. When the tide is out, a road to the Mokseom appears. Local people call it "Mokttemi" because the road looks like the back of people's neck (mok).
At a low tide, visitors can move to Moekseom and become a Robinson Crusoe in an unpeopled island for a while. The crossing of golden sand disclosed at a low tide would be an unforgettable thing.
Another place where you can see the Moses' miracle is a small island called Cheukdo. It is about 1km southwest away from Seonjaedo Island. The name is originated from a fact that people can see clear to the bottom, that is, they can measure (cheukryang) the depth by sight. They also used to call it Chickdo Island because there is a lot of kudzu (chick).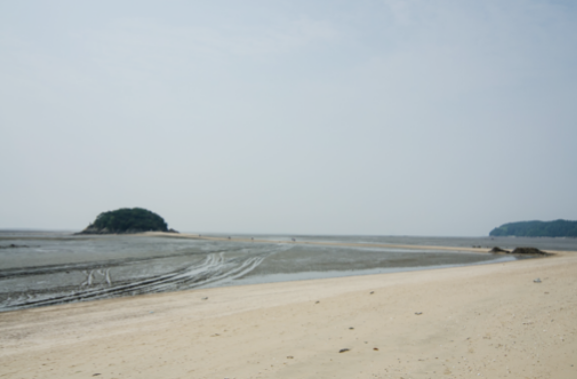 In particular, offshore power lines are installed on the road toward Cheukdo Island. At high tide, they produce an unusual scene. At low tide, a gravel road appears. Smooth and small pebbles are together in a cluster.
When there appears a road to Cheukdo Island, visitors can drive there. There are a small seafood store and couple of pretty pensions in the island. A lot of people stay the night. Due to the difficulty to access, a quiet tour can be expected.
It is the sea that occurs when you want to leave for somewhere. Seonjaedo Island which has good accessibility and fascinating view along many things to eat, see and do will be the best choice.