See&Do
Praise for Ganghwado Tour
Praise for Ganghwado Tour
Get Stamps on a Sticker. Nice Presents Are Waiting for You!
Ganghwa Sticker Tour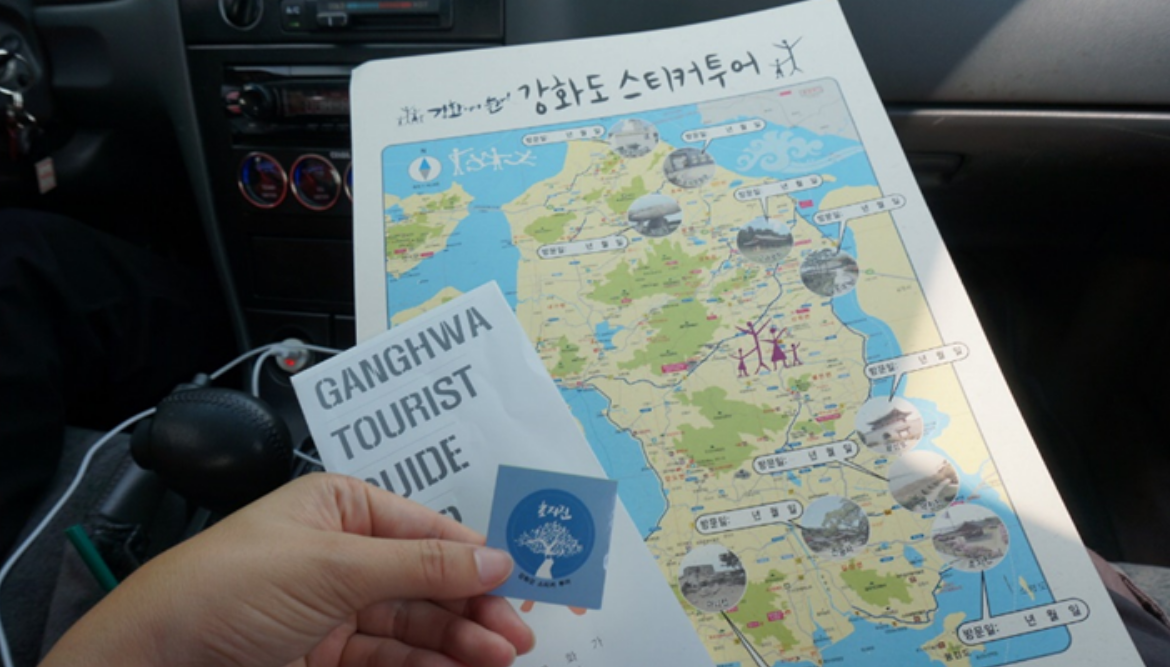 It is a program that visitors swap their complete maps for gifts. As purchasing admission tickets at 12 major attractions in Gwangwhado Island, they can get a sticker and map.
The 12 attractions and 8 scenic views of Gwangwha are overlapped. Completing the map makes it possible to visit the 8 scenic views. It also enables children to get interest in the history.
Completed map will be changed for a gift prepared by Gwangwha-gun.
They also run special events like north tour or autumn tour with their discretion.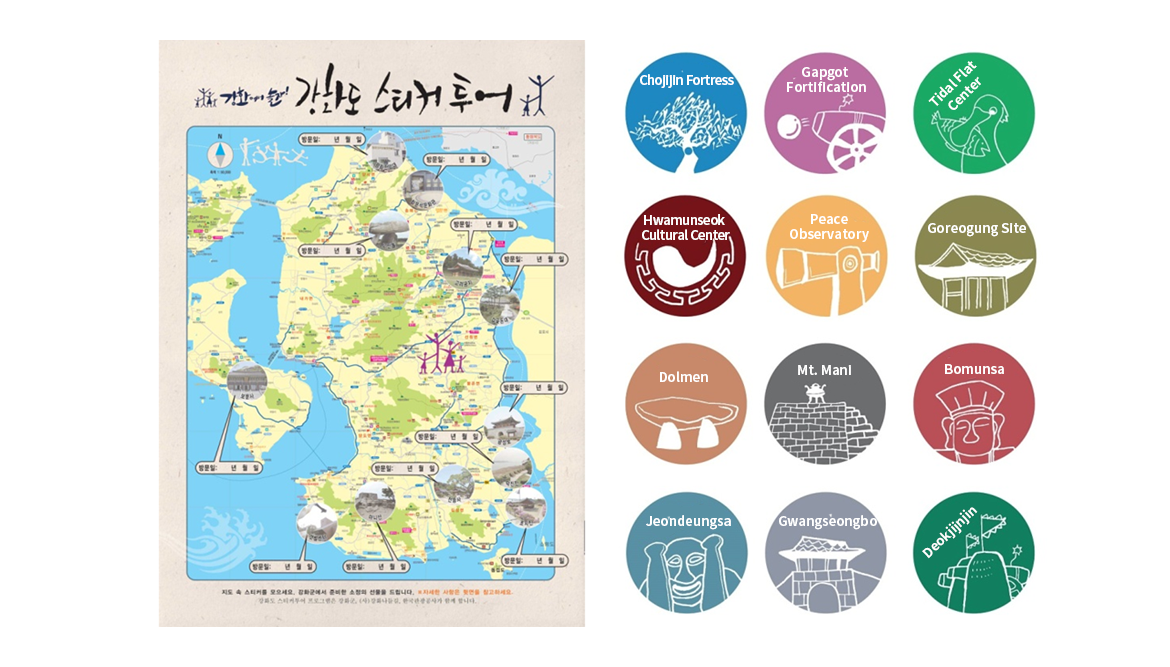 <List of sticker tour attraction >Peace Observatory, Hwamunseok Cultural Center, Dolemens, Goryeogung site, Gapgot Fortification,
Gwangseongbo, Deokjinjin Fortress, Chojijin Fortress, Jeondeungsa, Mt. Mani, Tidal Flat Center, Bomunsa

Chojijin Fortress It is one of the 12 jinbos, troops for the purpose of defense against coastal attack. In 1871 (8th year of King Gojong), when three U.S. warships invade the Joseon Kingdom, battles were waged. The canons are displayed on the restored field. In the same year, Japanese warship, Unyoho, invaded the kingdom and battles (Sinmiyangyo), were broke out. There is an evidence of shell on a pine-tree beside the fortification.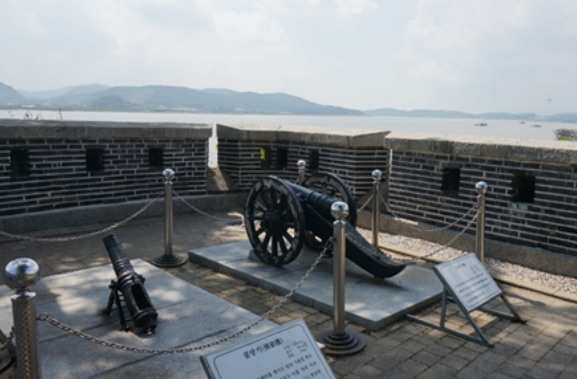 Gapgot Fortification It was built in May 1679 (6th year of King Sukjong) as one of the 48 fortifications. Due to its strategic location – close to the gateway to Ganghwa, its role was highly emphasized. Fortification is small-scaled observation and defense posts built with stone and soil at both seashore and border area. Soldiers have been on guard to identify and deal with any abnormal situation like enemies scout activities. During invasion, they immediately accept a battle.

Tidal Flat Center The southern mud flat of the island is one of the 4 major mud flats in the world. It was designated as the no. 419 of natural monument. The mud flat covers a region 52.7 times the size of Yeouido Island. The center made with eco-friendly logs was built 2005. It overlooks Yeochari mud flat at a glance. An aquarium, which tells the basic of tide, and an exhibition room for model spoonbills are on the first floor. Observatory and diorama exhibition are on the second floor.
The center offers visitors some information on mud flats and first-hand experiences such as observation of sand crabs, salt plants, and spoonbills.

Hwamunseok Cultural Center Ganghwa Hwamunseok, Korea's only rush-weaving handicraft is a cultural legacy inherited from Goryeo dynasty. It is exclusively produced in Ganghwa.
The center has set a permanent exhibition, in which visitors can see the past, present and future of Hwamunseok and rush- weaving handicraft.
They also provide visitors with an opportunity to work with local masters.

Peace Observatory Ganghwa Peace observatory was completed in the northern area of the civilian restrict zone in Cheolsan-ri, Yangsa-meon in the end of 2006. Since its opening, the observatory has been providing accessibility to visitors to the unique cultural system in North Korea.
It houses exclusive areas for the military, shops selling local specialties and North Korea's special products, and other facilities: management offices, guest rooms, video rooms, and viewpoints.
At the observation, visitors can see the the Yeseong river about 2.3 km away, Gaeseong Industrial Complex, the meeting point of the Imjin and Han river, Gimpo Aegibong observatory, Mt. Odusan unification observatory in Paju, and Ilsan new Town in right side. On their left side, visitors can view the designated area of a neutral zone, Nadeulseom, and Yeonback-gun which shows North Korean's livelihoods, promotion villages, the tower of Gaeseong Industrial Complex, Mt. Songak, and military obstacles.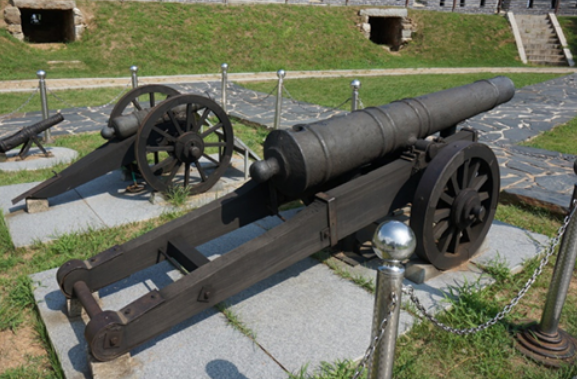 Goreogung Site Goreogung Site is the royal palace of Goreo Dynasty for 38 years from 1232 (19th year of King Gojong) to 1270 (11th year of King Wonjong). It was built to resist the Mongolian invasion.
The site was forcibly demolished by the Mongolian when the Dynasty went back to Songdo in 1270. Later, Joseon Dynasty established temporary palaces including Jangneongjeon, Manneongjeon, woegyujanggak, etc., and local government offices, but they were destroyed by the French Army during the Byeonginyangyo (French campaign against Joseon). The only structures that remain are Dongheon, a main office, and Ibangcheong, an administration office.
Dolmen Domens, also known as Jiseokmyo, are stone graves that were built during the prehistoric era. There are two types of them: table style in the north area and go-board style in the south region.
Korea has the most dolmens in the world. Constructing dolmens weighing dozens of tons require much labor. It represents the power of the then elites politically and economically.
The Gwanhwa dolmen site was officially registered with UNESCO World Heritage in 2000.
Mt. Mani Mt. Mani is 472.1m above sea level. It consists of three peaks which have grand and beautiful figure. At the summit, visitors can see many islands on the West Sea. In fine days, even Mt. Songak in Gaeseong, North Korea can be seen.
Chamseongdan at the top of the mountain is where Dangun (the founder of Korea) is said to have offered sacrifices to the heavens. Like Cheomseongdae in Gyeongju, it is circular in shape at the bottom and square at the altar representing the sky and earth respectively. Samgukyusa (a Korean history book) read Dangun appeared at Mt. Myohyang and settled in Pyungyang to establish a country called Joseon. After leaving the country to Giza, he became a mountain spirit. Mt. Mani and Chamseongdan were not referred. Yeojiseungnam, a geography book has a record that after founding a nation, Dangun became a mountain spirit at Mt. Guwol in Hwanghae province and served sacrifices at Mt. Mani.
Bomunsa The temple is located at the west of Mt. Nakga in Seokmodo Island across the sea. It takes 15 minutes by car from the ferry.
It is one the 3 major temples well-known for the Buddhist Goddess of Mercy in Korea. 14 years later after the construction, a fisherman named Ko found 22 statues of Buddha and his disciples and donated to the temple. Since then, many Buddhists have visited and achieved their wishes.
Behind the temple, there is a Maebul, the Buddha image engraved on cliff or rock. The view from there is another plus. Visitors can see an old Chinese Jupiter tree, a huge millstone that used to cook for more than 300 monks, and a Buddhist temple bell molded in 1975.
Jeondeungsa The temple is situated in Samrangseong Fortress, which is said to have been built by the three sons of Dangun, the founder of Korea.
At the front of the entrance, visitors face the main building Daeungbojeon (Treasure No. 178). 104 woodblocks of the Sutra of the Lotus, a kind of Buddhist Scriptures carved in Jeongsusa are kept in Daeungjeon.
Visitors can reach the restored site of Mt. Jeongjok library for Annals of the Joseon Dynasty through the left path in front of Myeongbujeon.
Gwangseongbo It was built in 1658 (9th of King Hyojong) as one of the 12 jinbo, troops for coastline guard in Ganghwa.
During Sinmiyangyo (the American invasion in 1871, 8th year of King Gojong), it was the fiercest battle ground in the island. The American fleets attacked Chojijin and Deokjinjin, and then marched to shell Gwangseongbo. General Eo Jae-yeon, who experienced Byunginyangyo in the fortress, and combat warriors bravely fought to the death against the invading forces. However, they were poorly equipped with far inferior weapons. The American fleets retreated with no gain. The invaders won a battle, but lost war. The site honorably cherished some structures: Gwangseondondae; twin monument houses to pay tribute to General Eo Jae-yeon and his brother Eo Jae-sun; Sinmisunuichong – tombs of anonymous warriors; Sondolmokdondae; and Yongdudondae.
Deokjijnjin Deokjinjin replaced Deokpojin which was moved to Tongjin (current Daegot-meon, Gimpo-city) in 1666 (7th year of King Hyunjong). It supervised Sondolmokdondae and Dekjindondae. King Sukjong ordered to build a temporary palace called Deokjinjeongsa, which lost its function later when a new one was built in town. During Byunginyangyo in 1866 (3rd year of King Gojong), an army led by General Yang heon-su defeated the French invaders through the site. It is a place where a battle was waged against the American forces during Sinmiyangyo in 1871 (8th year of King Gojong). In 1976, some restoration works were done for the fortress, Dondae, Namjangpodae, and a house on top of the castle entrance. Cannons used by the Joseon military reproduced for display.
Where you get the gifts:

Gapgot Fortification Information : 136-18 Haeandong-ro, Ganghwa-eup. Off on Tuesdays.
Ganghwa Terminal Information : 43 Jungang-ro, Ganghwa-eup. Always Open.
Dolmen Information : 994-12 Ganghwadaero, Hajeom-meon. Off on Wednesdays.
Chojijin Information : 58 Haeandong-ro, Gilsang-meon. Off on Thursdays
Traditional Korean-houses Tour Information : 14-1 (Jungang Market Complex-A) Namsan-gil, Ganghwa-eup. Off on Mondays.