Shopping
Shopping Stories
Various Transformation of Shopping Mall
NC Cube Canal Walk & Hyundai Premium Outlet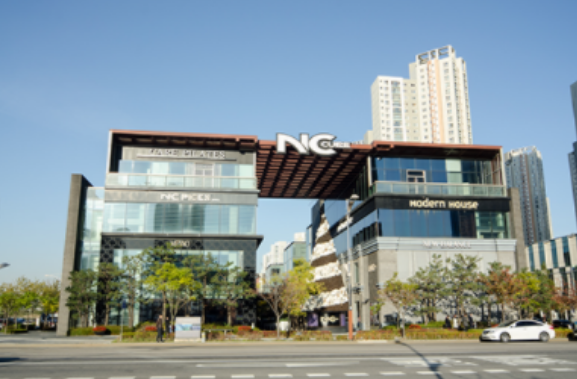 Is there a place in Incheon where visitors can have the feeling of being in Venetia, Italy and Amsterdam, the Netherlands? NC Cube Canal Walk can be the answer to the question. In the European-style shopping street, a man-made canal runs through the shopping mall. Visitors can feel a relaxed and quiet feeling as if they are shopping in Europe.

Each complex is composed of the theme of four seasons. Stores in each block are representing the topic beyond the image.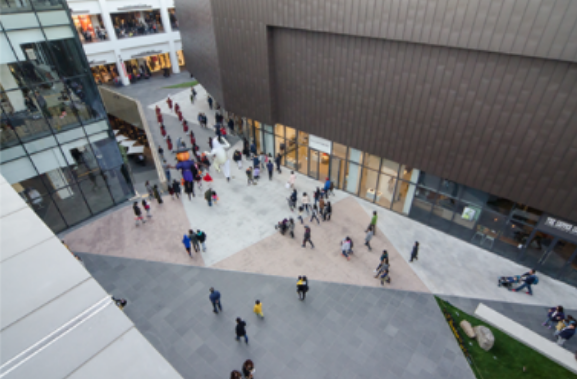 The spring zone is a space for fashion, general stores, daily necessaries, restaurants, hospitals, bookstores, and nail arts' designs. True to its name, it is the most glamorous zone. A red-colored piece, which is installed at the end of the sector, looks to radiate spring fever.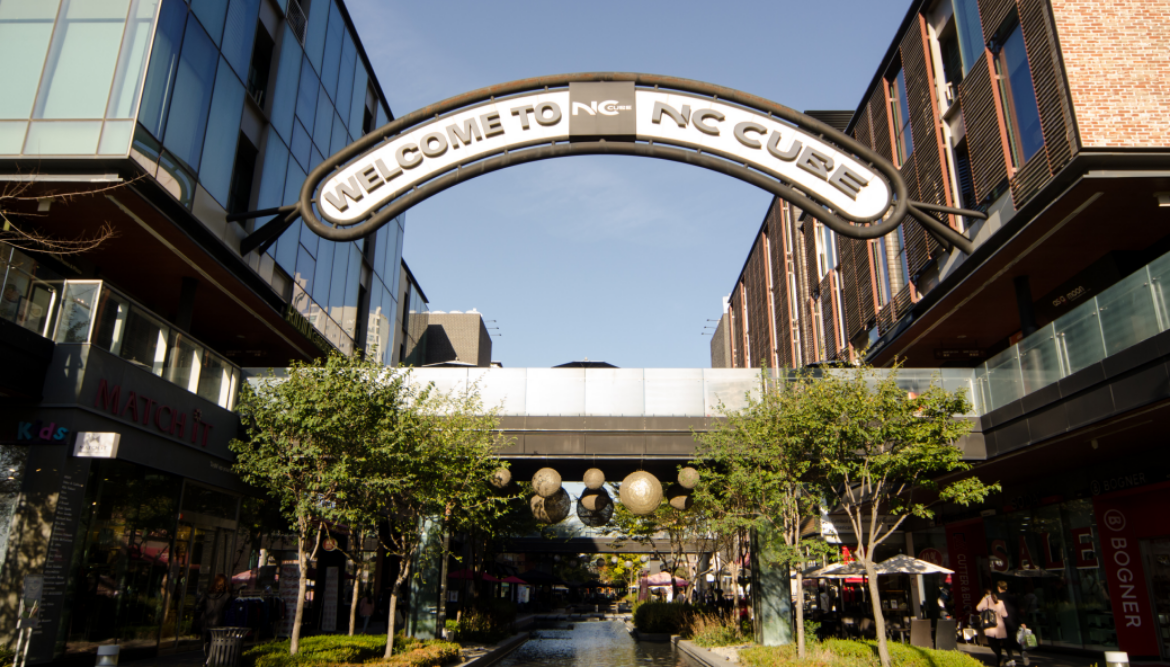 The summer zone is for women, miscellaneous goods, kids, and foods. Various shops extend along with the clean and clear canal. The zone goes best with the "canal," the symbol of Canal Walk.
Casual wears, general stores, cosmetics, alteration, banks, and customer service can be found in the autumn zone.
A sculpture for the zone means a family. As shops carrying casual items increase, more families are hanging around here.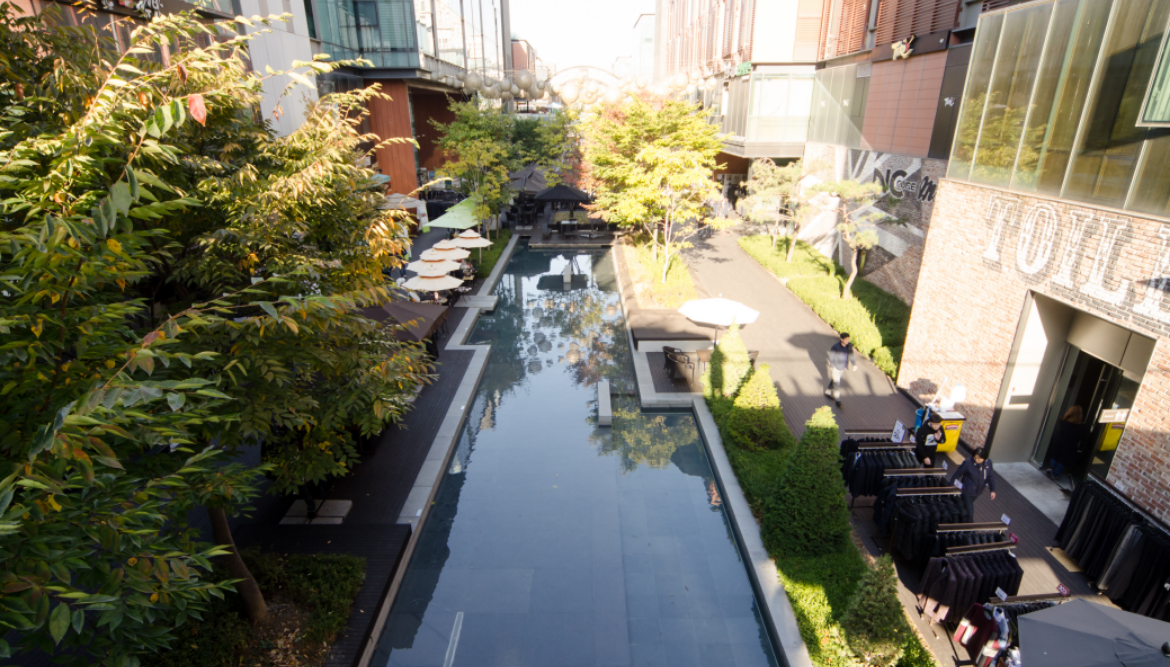 In the winter zone, shops for winter sports and outdoor activities are situated. Cold-imaged architectures symbolize winter. Some overhead figures that shape snowballs are attracting public interests. Sculptures using container boxes give off the atmosphere of winter.
Walking along the canal with feelings of the whole seasons makes visitors think that they are in Europe. That is because the shopping mall attracts many people.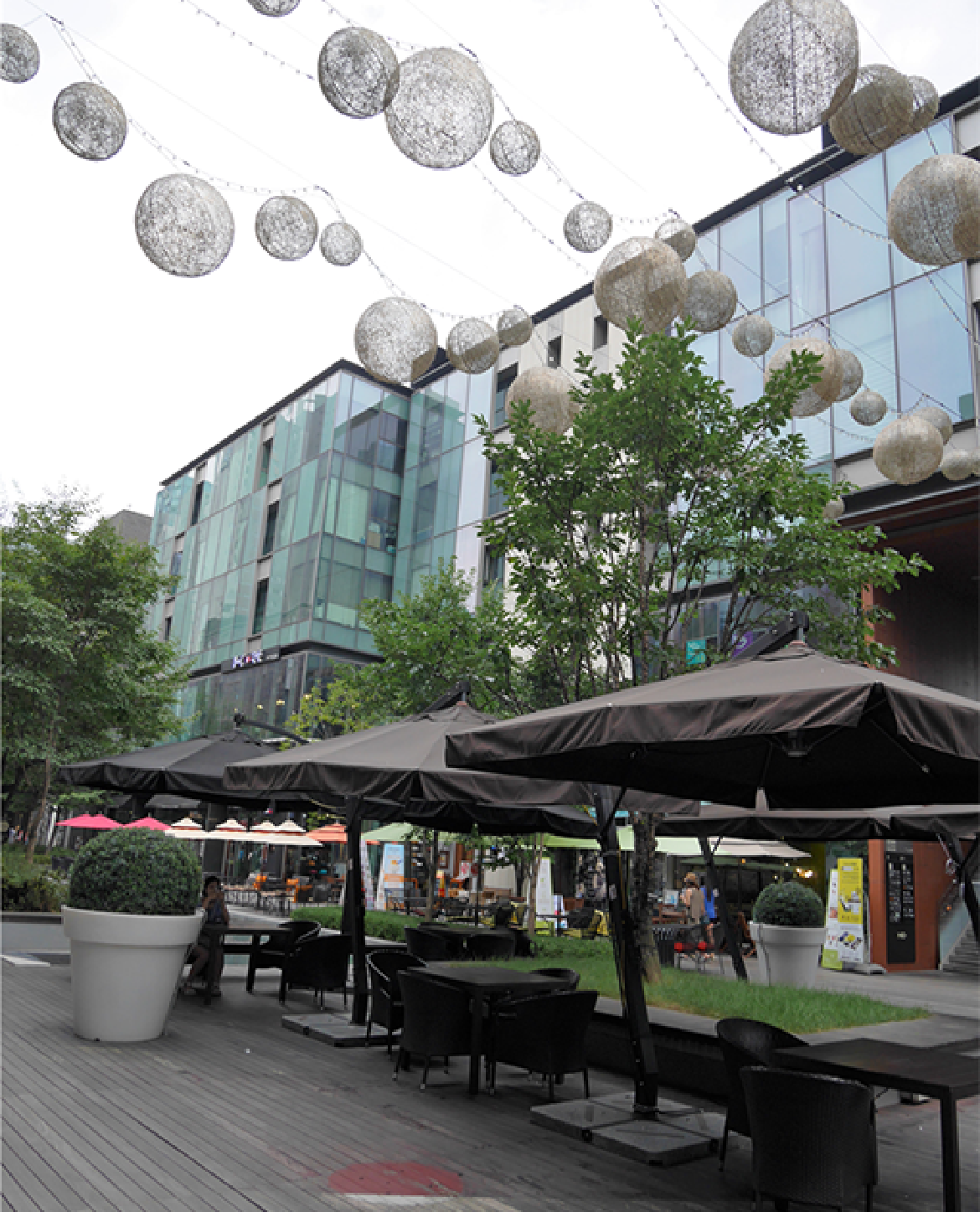 Hyundai Premium Outlet is an exotic shopping mall for families. In a cozy and warm atmosphere, visitors can shop everything – overseas fashion items, sports goods from ACC to golf, items for infants and daily life, appliances, furniture, beauty products, foods, etc. Also it provides various shopping categories such as more than 300 clothing brands, 100 and more restaurants, and cafes. It is a complex culture space in which visitors can have fun experience and play even in winter season.
Songdo Hyundai Premium Outlet is called as the first "Hybrid-type Outlet" across the nation. Its accessibility by public transportation like subway and buses causes consumers to purchase daily necessaries. At the same time, it takes the advantage of a suburban-type outlet which attracts customer from other regions with the designers' brands.
Hyundai premium Outlet, the 3 storied-building with a basement, features a downtown outlet. The outlet has noticed the fact that most residents in the region are in their 30's or 40's having children. It is rare to put a supermarket in an outlet, yet the Outlet opens a premium market on the basement. They target the consumers living in apartments nearby.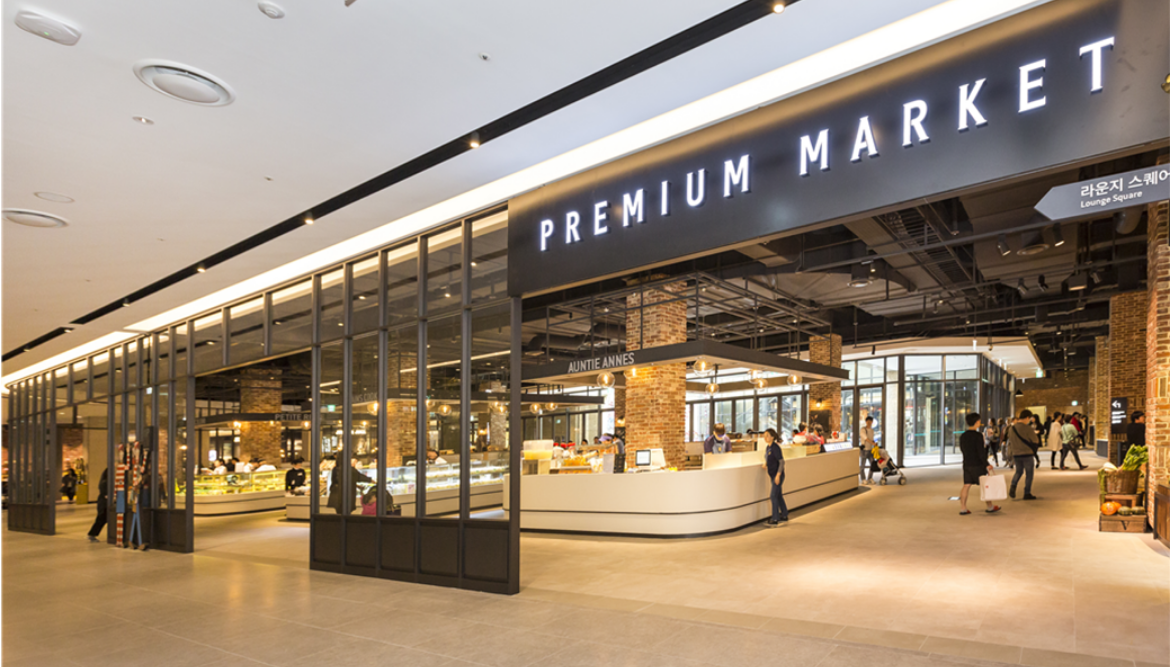 These days' consumer trend shows they focus on "enjoying their lives." Regardless young and old, everyone wants to happy lives. That is because many department stores and outlets have changed themselves into complex culture space from shopping malls. And Hyundai Premium Outlet is an exemplar. A garden in downtown, in which fresh wind and greenery greets you, Hyundai premium Outlet is the space for shopping and refreshment with relax.
Enjoy various shopping themes in Songdo by season. It is highly advisable to visit the shopping spot where you can feel seasonal flavor beyond shopping.