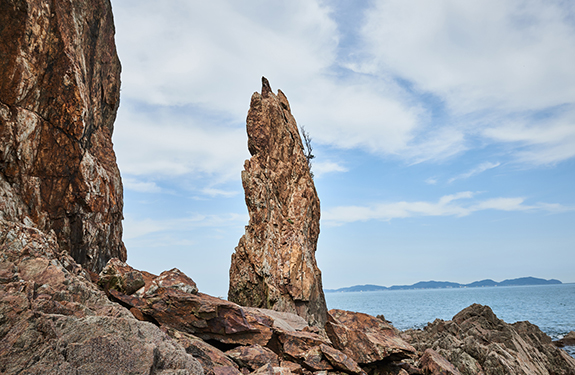 Meet the sea along the coastal road
You can walk on the coastal dulle-gil with an open view of the sea. Seungbongdo Island is recommended for light trekking, and Jangbongdo Island and Gulupdo Island if you want to enjoy nature properly.
Jangbongdo Gammokmeori Coastal Road refers to the section starting at the Palgakjeong Pavilion at the entrance of Jinchon Beach, passing through Bonghwadae and going to Gamakmeori Observation Deck. It is a good course to enjoy the sunset and see the whole sea.
Seungbongdo's Ocean dulle-gil runs from Buduchi Beach to Chotdaebawi Rock. It is made of a length deck, so it is relatively gentle, and it is easy to track lightly for families.
Gulupdo Nanggae-ri Neungseon-gil has a view of the surrounding island from the top of Deokmulsan Mountain. The wide hills and grasslands up to the Nanggaemeori ridge harmonize with the sea, and the scenery where the sukhyeongs rise is very beautiful.
길 이름
코스
거리
소요시간
주소
Jangbongdo
Gamakmeori Coastal path
Gamakmeori Sunset, Bonghwadae
6.71km
About 2hours and 8 minutes
Jangbong-ro, Bukdo-myeon, Ongjin-gun, Incheon
Seungbongdo
Ocean Dulle-gil
Chotdaebawi Rock, Buduchi Beach Path
2.28km
About 50 minutes
Seungbong-ro Jawol-myeon, Ongjin-gun, Incheon
Gulop-do
Nanggae-ri Neungseon-gil
Nanggaemeori, Deokmulsan mountain
5.52km
About 1 hour and 43 minutes
Gureop-ro, Deokjeok-myeon, Ongjin-gun, Incheon