Perfect destination for business travellers - Songdo International City
Songdo International City is not just a tourist destination but the Korea's first international conference complex district. As the center of the Incheon Free Economic Zone, it is a world-class city with 15 international organizations. The cityscape is modern and beautiful. The eye-catching architecture creates a sophisticated urban atmosphere, and the parks give the city a fresh color.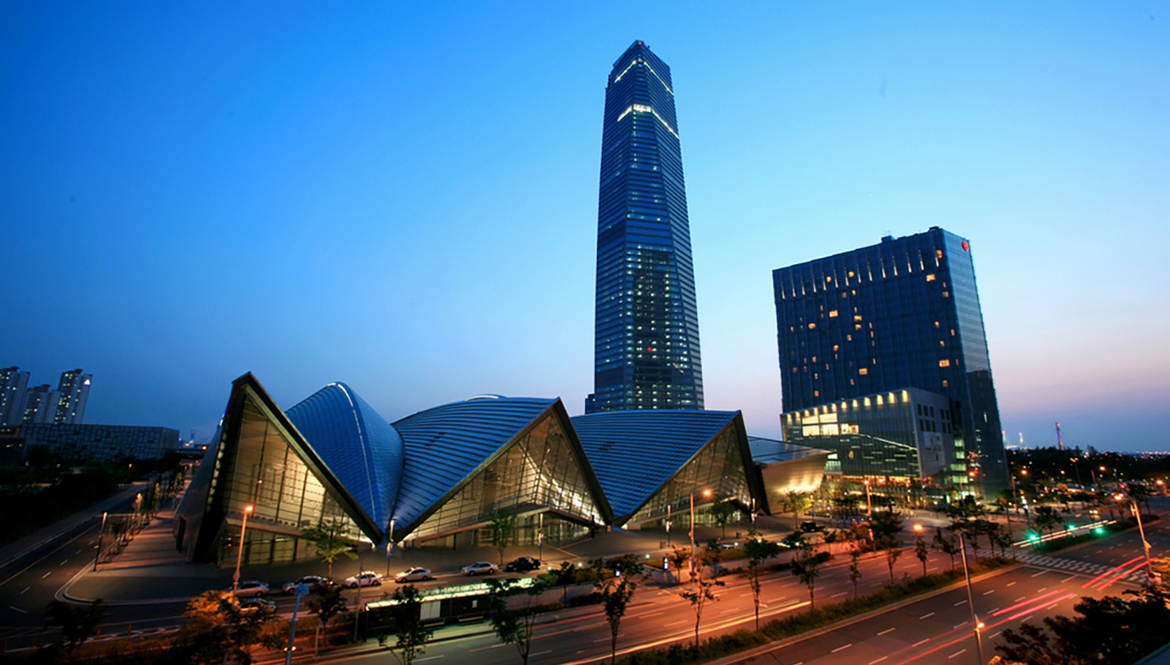 Highlights
Songdo International City Landmarks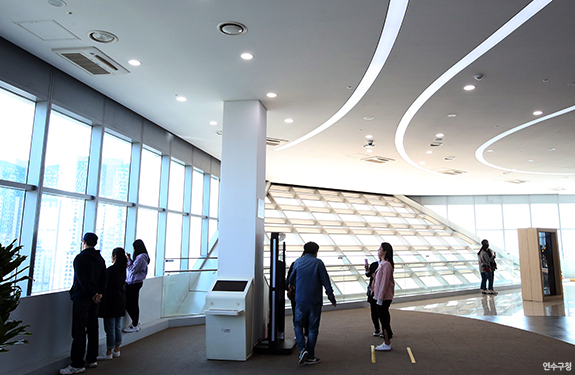 Songdo IFEZ G-tower Promotion Center Observatory
The UN international organization GCF (Green Climate Fund) is also located in the G Tower, and the observation deck is located at the top of a 150m high 33-story building. After receiving information from the lobby information desk on the 1st floor of the building, you can use the observatory at the IFEZ (Incheon Free Economic Zone) promotion hall on the 33rd floor for free. When you go up to the observation deck, you can see a wonderful 360° panorama of the Art Center Incheon, NC Department Store NC Cube Canal Walk, the Hanok Village and the Central Park.
* We are operating an online reservation system according to the guidelines of Covid 19 <Social Distancing Regulations>, and the end of the advance reservation system will be announced later.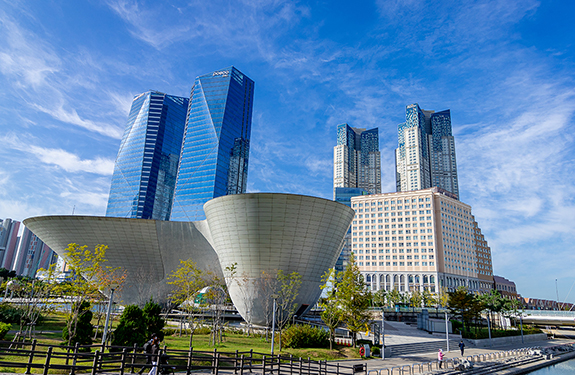 Songdo Tri-bowl
The Tri-bowl, the most eye-catching architecture while walking around Central Park with its three bowls that look like hand-made, is a complex cultural space that operates various performances, exhibitions, and educational programs. A water path runs along the tri-bowl, and the night view of Songdo reflected on the water after sunset is very beautiful, making it a popular spot for night photography. Every summer, jazz festivals are held in the arena-style indoor performance hall and in the outside space, so it is good to check out their website beforehand. Regardless of those, there are free exhibitions and performances held at all times, so we recommend visiting and taking a tour of the nearby landmarks.
Incheon Urban History Museum
The Compact Smart City is a museum that shows the transition process from the 'tidal flat' to the modern city of 'Incheon' in an easy-to-understand manner to the citizens of Incheon as well as domestic and foreign visitors through various real data and models. The 1st floor shows Incheon's past, the 2nd floor shows the current status of Incheon, and the 3rd floor shows a model of the future development plan. It is attached to Central Park, a landmark of Songdo, so you can take a walk after visiting the museum.
Gyeongwonjae Ambassador Incheon
Gyeongwonjae Ambassador Incheon is a hanok hotel that showcases the beauty of tradition created by five Korean masters, and was selected best accommodation in the 2016 Korea Tourism Star Awards. The building's location among the forests shows a unique harmony of tradition and modernity, and it is popular as a hotel vacation place with both domestic and foreigners. The whole building was built in the traditional style of a beautiful hanok, but the interior of the room was decorated with beds and tables in consideration of domestic and foreign people who are not familiar with sedentary lifestyle. The Korean-style breakfast served at the hotel's Korean restaurant 'Sura' was a hot topic when it opened, and in 2018, it was selected as one of the top 3 Korean hotel restaurants that foreigners want to visit.
Songdo Convensia
Songdo Convensia is Incheon's representative convention center, and its unique exterior is said to be based on the Taebaek Mountains. Various international conferences, exhibitions and mega events are held here throughout the year. The Smart Mice Lounge provides unique pleasure to tourists by offering smart content experiences in various ways such as VR/AR, media wall and hologram.
Food & Shopping
Shopping in Songdo International City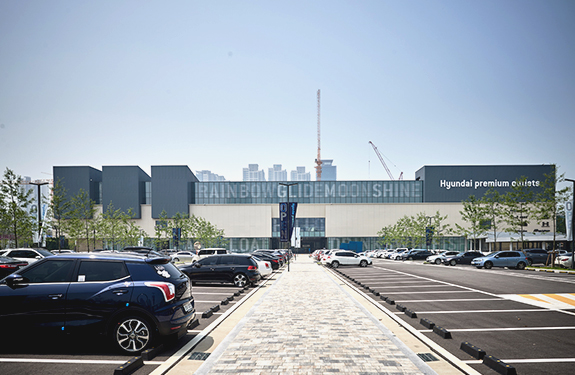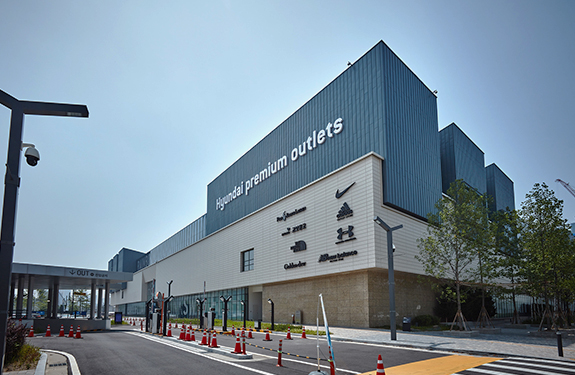 Hyundai Premium Outlets
Hyundai Premium Outlet is a recommended shopping place for travelers who want to spend more time leisurely shopping outside of the duty free shops in the airport. As it is a premium outlet operated by Hyundai Department Store, one of the famous department stores in Korea, you can meet the latest domestic and foreign brands including famous overseas brands in a pleasant shopping space. There are also F&B zones with various concepts such as the premium market, garden terrace, and dining restaurant, so there is a wide range of food options after shopping.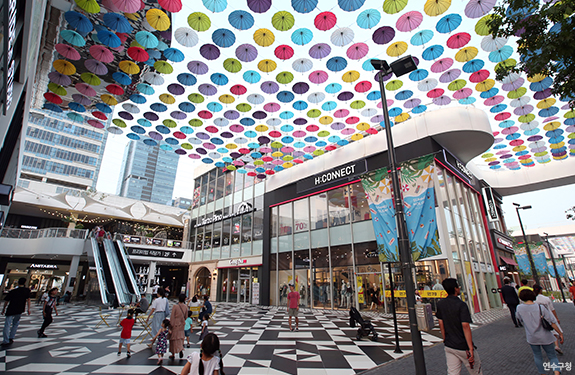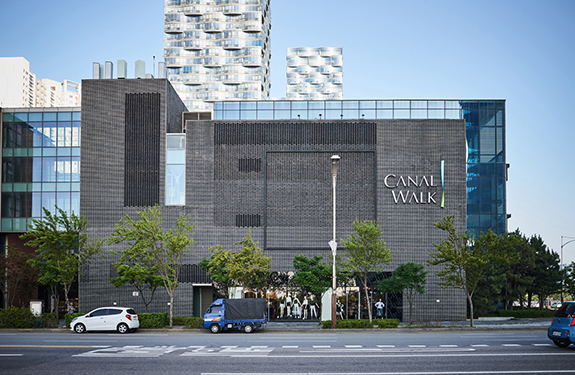 Songdo Triple Street
If you searched Songdo International City before your trip, you've probably seen pictures of beautiful streets with colorful umbrellas. This is Triple Street, where things to see, eat, and enjoy are in perfect harmony, and it has a good restaurant area and many SPA brand stores that are popular with young people. It is also characterized by the good structure of the restaurant area, and it is good to see the lifestyle shops everywhere. The movie theater, bowling alley, and roof garden in Building D offer a different pleasure of shopping. Also, as a walkable shopping mall that considers pedestrians, you can go from Building A to Building D without crossing the crosswalk through the overpass on the second floor.
Songdo Canal Walk
Wherever you travel, delicious food, colorful sights, and satisfying shopping are indispensable pleasures. Canal Walk is a premium outlet shopping mall in Songdo International City and a designed shopping space divided into themes of the four seasons (spring, summer, autumn, and winter) along an artificial waterway. The outdoor space is decorated with various sculptures, trees, fountains, and stepping stones, and there is a stylish outdoor cafe near the waterway, so it is good for relaxing while having a light meal or drink while shopping.
Rest/Park
Urban Parks in Songdo International City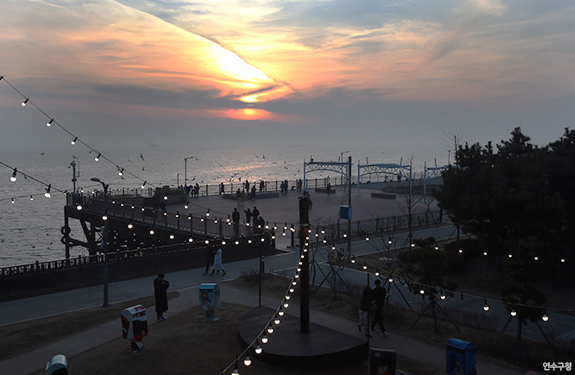 Songdo Central Park
If you visit Songdo International City, you must go to the Central Park, the signature trademark of Songdo. It is good for a walk along the trail surrounding the waterway, and at night you can enjoy the wonderful night view of Songdo International City surrounded by skyscrapers. In the water park, which is the first in Korea created by pulling water from the sea, water taxis are operated and various water leisure activities such as boats, kayaks, and canoes can be experienced. It is popular among Koreans as a recreational tourist destination as it is adjacent to luxury hotels and shopping malls.
Songdo Michuhol Park
Michuhol Park is one of Songdo's neighborhood parks that show an "exotic" landscape due to the harmony of traditional Korean style houses and the skyscrapers of Songdo International City. Inside the park, from the traditional tea house at the entrance to the Hahoe mask sculpture in front of the Gaetbeol Cultural Center, there is a lot to see and take pictures of. In the well-preserved ecological yard, Korean native plants that differ from season to season grow and flowers bloom. Walking in the park, you can relax in the traditional Korean pavilions scattered around the park.
Songdo Solchan Park
Songdo Solchan Park is a healing spot in Songdo International City, recommended for travelers who are tired from flying for a long time. When you want to see the open west sea near Incheon International Airport, head to Songdo Solchan Park. You can sit on a wooden deck facing the sea and relax while watching seagulls flying freely. It is also a good idea to check your itinerary while sipping coffee or tea at the café Caisson 24 located in the park. If you go to Songdo Solchan Park in time for the sunset, you can enjoy the beautiful sunsets of Korea's West Sea.
Incheon City Tour Bus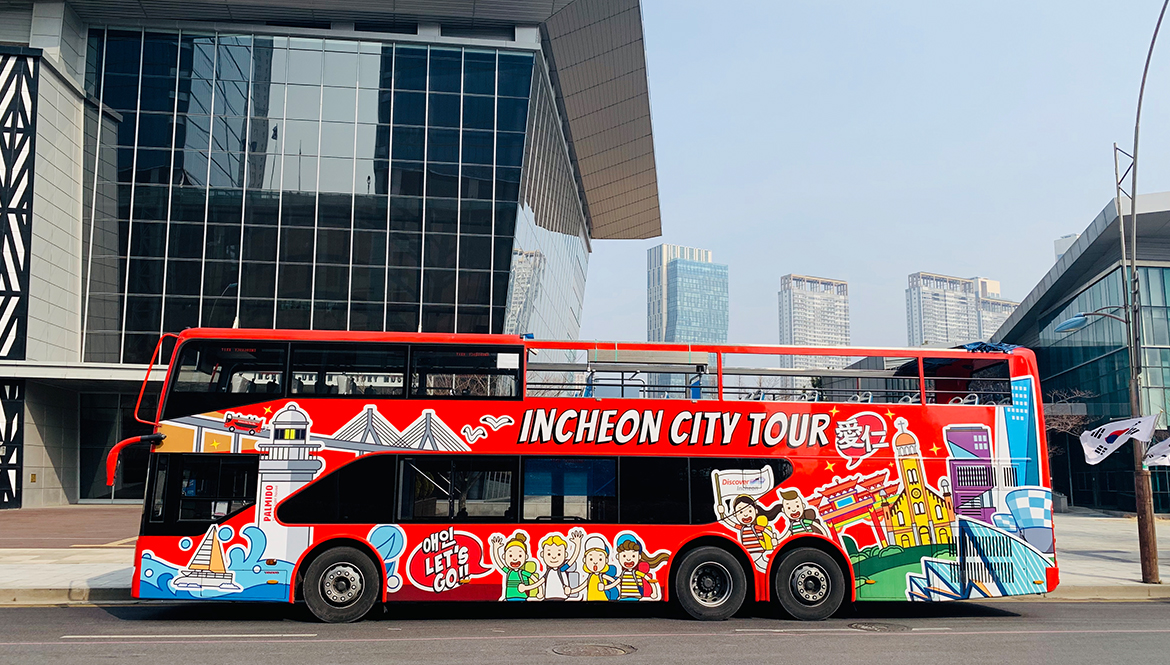 The Incheon City Tour Bus circulates around Incheon's major landmarks and tourist destinations around Songdo International City. For busy business travelers, it is recommended to take the Ocean line, and if you have a more relaxed schedule, it is recommended to take the open port route to travel around the Incheon port, which is called the sacred place for Newtro travel.
* Before using the Incheon City Tour Bus, be sure to check the detailed schedule, time and place of boarding through the website (
www.travelicn.or.kr/open_content/citytour)
*Incheon City Tour Bus – Ocean Line (2hrs 50mins)
Central Park(Starting point/Transfer station)-Songdo Convensia (transfer station)-Wangsan Marina-Eurwangri Beach-Paradise City-Incheon International Airport (T1)-Incheon International Passenger Terminal (transfer station)-G Tower-Art Center Incheon- Central Park (end/transfer station)
*Incheon City Tour Bus – Open Port Line (1hr 40mins)
Central Park (Start/Transfer)-Incheon International Passenger Terminal (Transfer station)-Via Incheon Inner Port (Terminal 5 → 8 Head)-Incheon Station-Via Incheon Inner Port (Terminal 8 → Terminal 5)-Songdo Convensia (Transfer station)- Triple Street-Central Park (end/transfer station)
*If you get off at Incheon Station, you can see Chinatown and the open port area.