NEWTRO (Open Port Area)
Since the port opening, Incheon has emerged as an international city where cultures from different countries co-exist. 130 years of the open port history makes Incheon what it is today, allowing it to serve as a bridge connecting with the world and a hub to Northeast Asia. Despite diversified culture and fast paced development, Incheon's Open Port Area keeps the past intact. Without unnecessary flamboyance, Incheon simultaneously embraces 'newtro(a new word created by combining the words 'New' and 'Retro', referring to a new way of enjoying retro)' and its role as a historical global hub.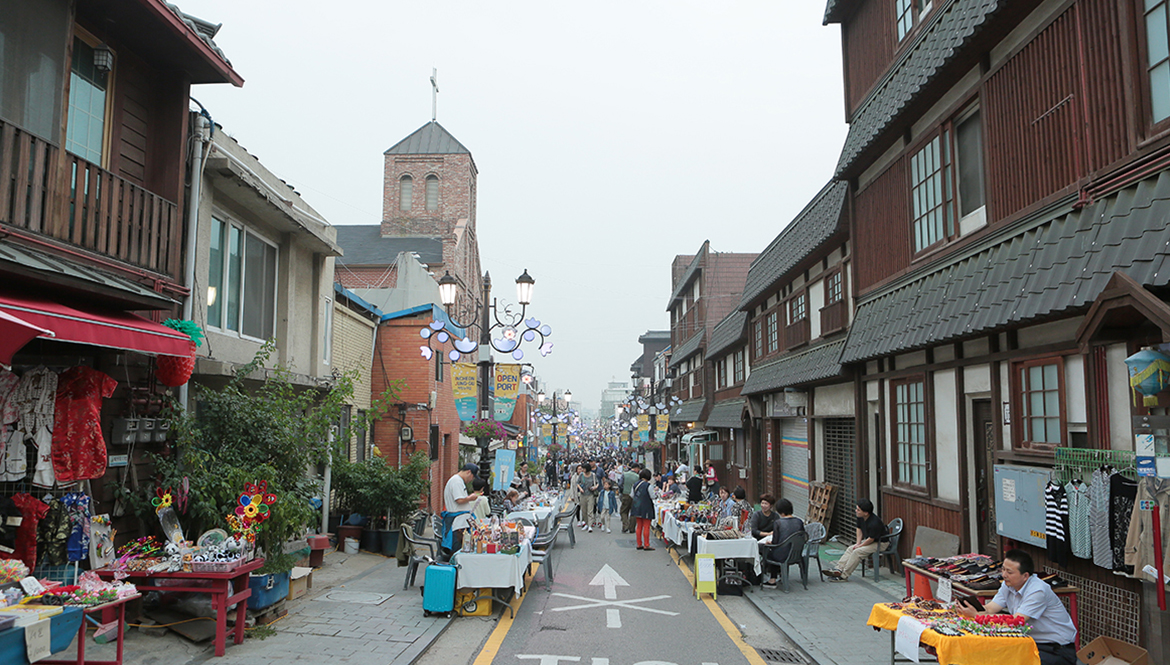 HALF DAY (Centering on Open Port Area)
Museum Tour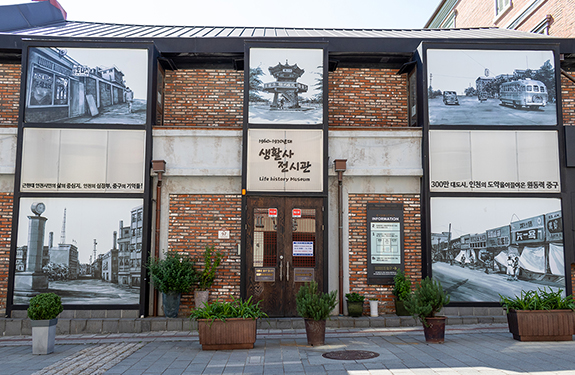 Daebul Hotel Exhibition Hall
Korea's first western-style hotel, Daebul Hotel, was opened in 1880s. It served to accommodate foreign missions and visitors who entered Korea through the Incheon port because it took 12 hours to travel from Incheon to Seoul. The hotel was closed due to managerial difficulties and torn down. However, it has now been reproduced as an exhibition hall where you can learn about the history of the Daebul hotel and see the recreated hotel rooms.
*Admission fee (KRW)
Adult 1,000 / Student 700 / Military, senior-500 / Children 500
Jung-gu Life Center
Jung-gu Life Center is an exhibition hall where you can get a glimpse of the everyday and cultural life of Incheon citizens in the 1960s and 1970s. Exhibitions show cultures of clothing, food and shelter and visitors are given a chance to experience the life in Jung-gu at that time.
*Admission fee (KRW)
Adult 1,000 / Student 700 / Military, senior-500 / Children free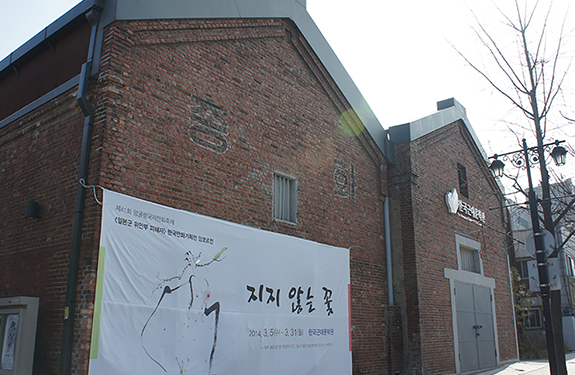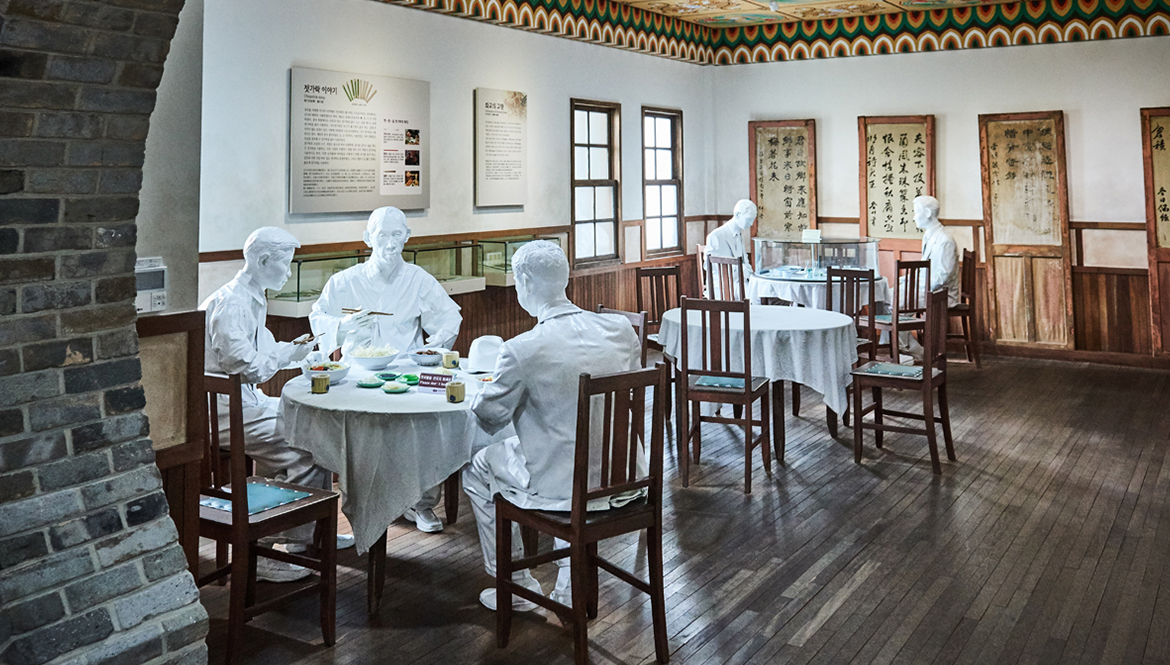 Jajangmyeon Museum
In Chinatown, Gonghwachun was the first Chinese restaurant to serve Jajangmyeon (noodles in black bean sauce) in Korea. The restaurant has now been transformed into the Jajangmyeon Museum, exhibiting how jajangmyeon was born and grew to become so loved across Korea. After viewing all the many exhibited items at the museum, how about trying a bowl of Jajangmyeon in one of the Koreanized Chinese restaurants lined up throughout Chinatown?
*Admission fee (KRW)
Adult 1,000 / Student 700 / Military, senior-500 / Children 500
Incheon Open Port Museum
Incheon Open Port Museum was formerly Japanese First Bank Incheon Branch, the only financial organ in Incheon at the time of the port opening, which was remodeled to reopen in 2010. The museum serves as a venue for learning about modern Incheon after the port opening. A special feature of the museum is that all four exhibit halls house so many elements labeled as 'Firsts,' such as the railroad, church, postal system, and other relics and resources. For anyone interested in viewing various historical treasures, Incheon Open Port Museum is the place to visit.
*Admission fee (KRW)
Adult 1,000 / Student 700 / Military, senior-500 / Children 200
The Museum of Korean Modern Literature
Today, there still remain warehouses keeping artifacts from the Open Port Area in Incheon. The Museum of Korean Modern Literature was planned to enable visitors to experience modern literature through the remodeling of an almost 100-year-old warehouse building. Literature expresses the ideas and emotions of a time through the use of a language, and the Museum of Korean Modern Literature enables visitors to appreciate the foundations of Korean literature. It also allows visitors to take a look at important modern literary works in person, and experience the various types of modern Korean literature.
Open Port Area's History & Culture Street Story Course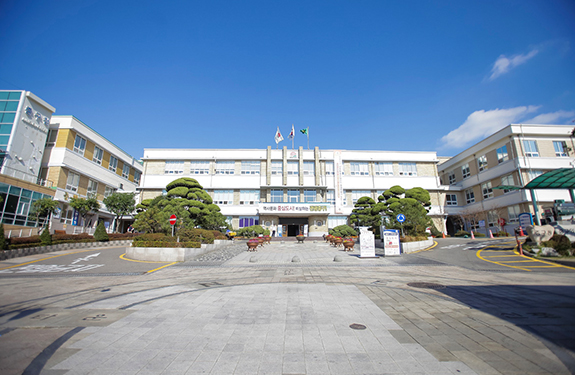 Incheon Art Platform
All across Haean-dong, Jung-gu, Incheon, there are well-preserved buildings from the 1930s and 1940s, highly acknowledged and prized for their architectural value. Of these, 13 buildings, including the over 120-year-old warehouses and residences for companies, have been remodeled into the present cultural and artistic complex. Furthermore, various high causes were united to revive the city's historical and spatial features for more cultural use, giving rise to a Center for Living and Culture, comprised of creative studios, workshops, exhibition halls, performance halls, and resource rooms. The area around the Open Port is gaining high recognition for its successful urban reproduction by taking advantage of culture and art while preserving its history, with the result of positive influence upon activating the local economy.
*Admission fee (KRW)
Free

Jung-gu Office
Jung-gu Office is a historic building on the hill which commanded Incheon Port in 1883. It was used as the Consulate of Japan in Korea. It was remodeled in 1932 during Japanese colonial rule and scratch tiles constituting the exterior well demonstrate a modern architectural style of the 1930s. It is still remaining in use today as a government building.
Jayu Park (Freedom Park)
Jayu Park is Korea's first modern Western-style park. It was originally called 'Gakguk (each country) Park' or 'Manguk (all countries) Park.' It was later renamed as 'Jayu (Freedom) Park' to memorialize the freedom recovered with the successful strategic Incheon Landing Operation, or 'Operation Chromite.' At the park, there are many historic treasures to take in: the Korea-U.S.A. Centennial Monument, the Statue of General Douglas MacArthur to commemorate his successful leading of Incheon Landing Operation, the Nature Preservation Charter Monument, Chunghon Tower, and Seokjeongru.

The magnificent view of Incheon port and Wolmido observed from the top of the park are also must-see items for tourists, and the night view of Incheon from the park is a favorite for young couples enjoying a romantic night out.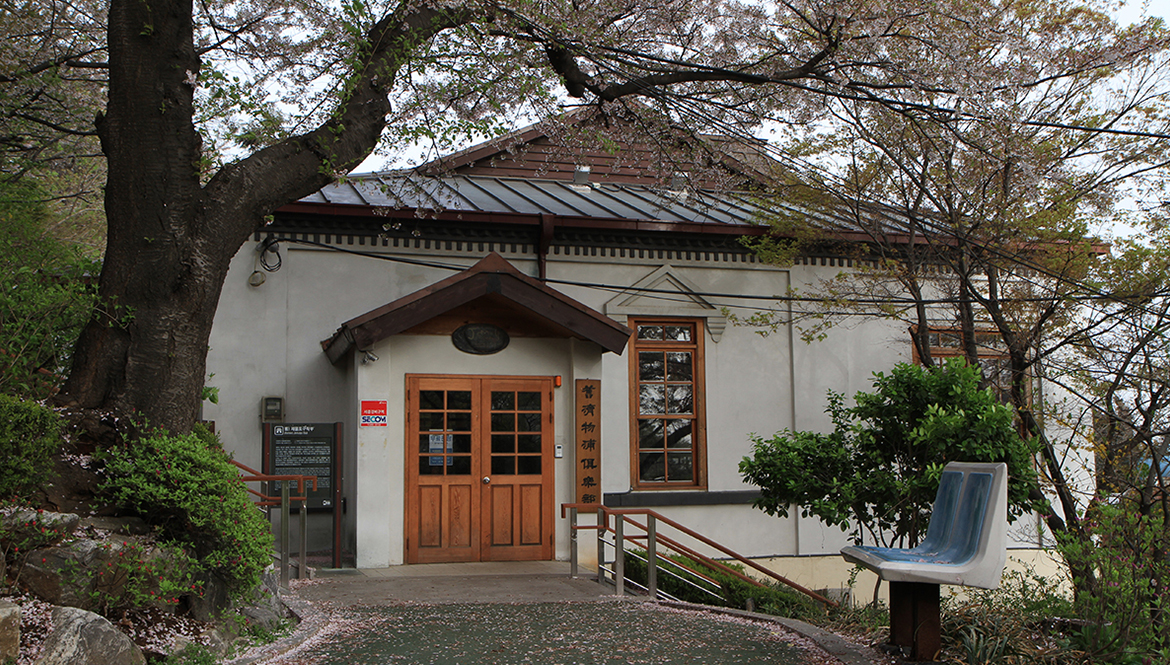 Jemulpo Club
The Korean word for 'club' in Jemulpo Club, 'Gurakbu,' is the Korean transcription of the Chinese 'club' with Japanese pronunciation. Constructed in 1901, Jemulpo Club served as a venue for cultural exchanges between foreigners living in Incheon at the time of the port opening. After 1884, residential areas for different nationalities popped up around Incheon and, in 1891, a social club was formed among foreign residents, including those from the Chinese Qing Dynasty and Japan. This was Korea's first social club for foreigners. In 2007, the club building was renovated to reproduce its original interior in order for visitors to have a peek inside the building at its prime.
Hongyemun Gate
Hongyemun Gate literally means a rainbow-like gate, and was built to enable Japanese residents to expand their domain as their number exponentially increased in early 1900s. It demonstrates Japanese civil engineering of the time. Standing on a road situated on the upper side of Hongyemun Gate, the structure commands Incheon Port, making it one of the most popular attractions in Incheon and admired not only by tourists but also by local residents.
Incheon Jung-dong Post Office
Today, many people communicate with one another via email and SNS, but a hand-written letter can sometimes be more affecting. Korea's postal culture started in Incheon. Built in 1923, Incheon Jung-dong Post Office is a modern architectural structure where a western building style is exquisitely harmonized with an eastern model. It is said to be the oldest building among currently operating post offices in Korea. It includes a photo of Wolnam Lee Sang-jae, the first Korean post office manager and an independence movement activist, in the Incheon Jung-dong Post Office.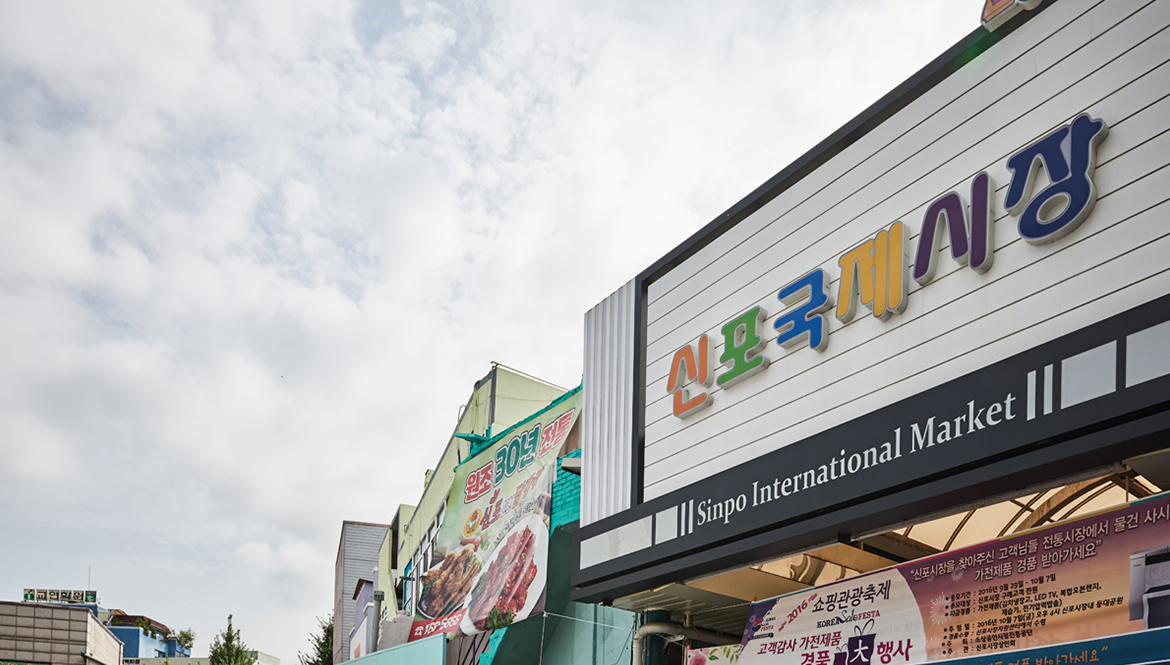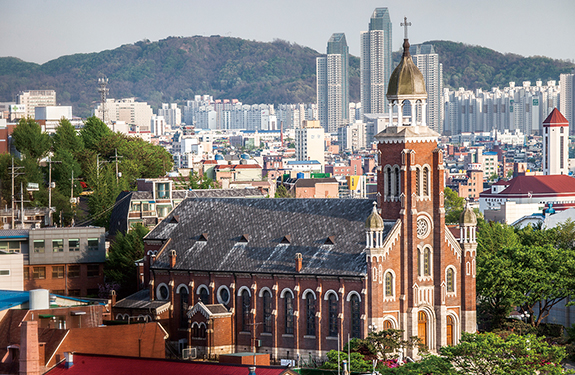 Sinpo International Market
The vegetable market in Sinpo-dong from the end of the 19th century served as the origin of present-day Sinpo Market. Even today, some traces of the old vegetable market are seen , from sculptures on display or in the corners of stores that have managed to stay in business all this while. Not simply the birthplace of home of Jjolmyeon(spicy chewy noodles), Sinpo International Market is famed for its variety of delicious foods. It is the first modern market in Incheon to open 7 days a week, 365 days a year and the representative market of Incheon, dating back 100+ years to the opening of the port.
The Dapdong Cathedral of St. Paul
Religion is central to world history, and Catholic churches played an essential role not only in local people's lives but also in Incheon's history. The Dapdong Cathedral of St. Paul, Incheon's first Catholic church, was built thanks to efforts made by various figures ranging from Father Wilhelm, who laid the foundation for Dapdong Cathedral of St. Paul in 1889, and Father Le Viel who raised a fund to finance construction of the cathedral, to Fathers Coste and Chargeboeuf, who drew up a basic blueprint for completion of the cathedral. Although it was damaged over a long period of time from Japanese colonial rule to the Korean War, its splendor and beauty has been furthered through efforts for continuous restoration, and the installation of stained glass, which leads to heightened cultural and artistic value.
Naeri Church
Since Incheon was an entry point for western civilization, religion was introduced here more quickly than in other areas. Naeri Church, Korea's first Methodist church, is known as Mother's Church in Korea. Naeri Church was established by Henry Gerhard Appenzeller, a missionary who served in Korea in 1891, and his wife, together with Sin Hong-sik, one of 33 national representatives who led the March First Independence Movement, and becoming Korea's first pastor.
Chinatown/Donghwa Village Story Course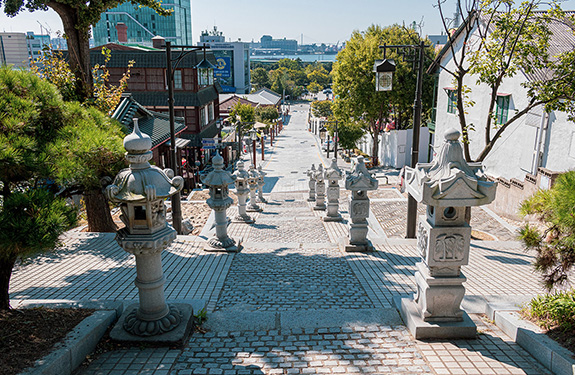 Incheon Korean-Chinese Cultural Center
For countless years, Korea and China have maintained relationships through ceaseless exchanges, and Incheon has always served as a bridge between the two countries. The Incheon Korean-Chinese Cultural Center was established to conduct cultural exchanges in 2005 and facilitate mutual understanding between Korea and China by learning more each other's culture, history, economy and society. Visitors can feel and experience Chinese culture without visiting China in person. As a cultural rest area, it also enables visitors to enjoy themselves through performances, special exhibitions and its unique relationship with Chinatown.
*Admission fee (KRW)
Adult 1,000 / Student 700 / Military, senior-500 / Children free
The Border Stairs between Chinese and Japanese Settlements
Stone steps are arranged at the center, and landscaping spaces are placed at both sides of the steps in the Border Stairs between Chinese and Japanese Settlements. Although the steps look similar to any other stairs, they represent a rich history and its value. At the time of port opening, many foreigners resided in Incheon. The Qing and Japanese Settlements were adjoined. The Border Stairs between Chinese and Japanese Settlements were established to divide the settlements of the two countries, and stone lamps are placed at both ends. In reality, a stone lamp placed to the left is a Chinese styling, whereas to the right is of the Japanese manner, creating a unique appearance.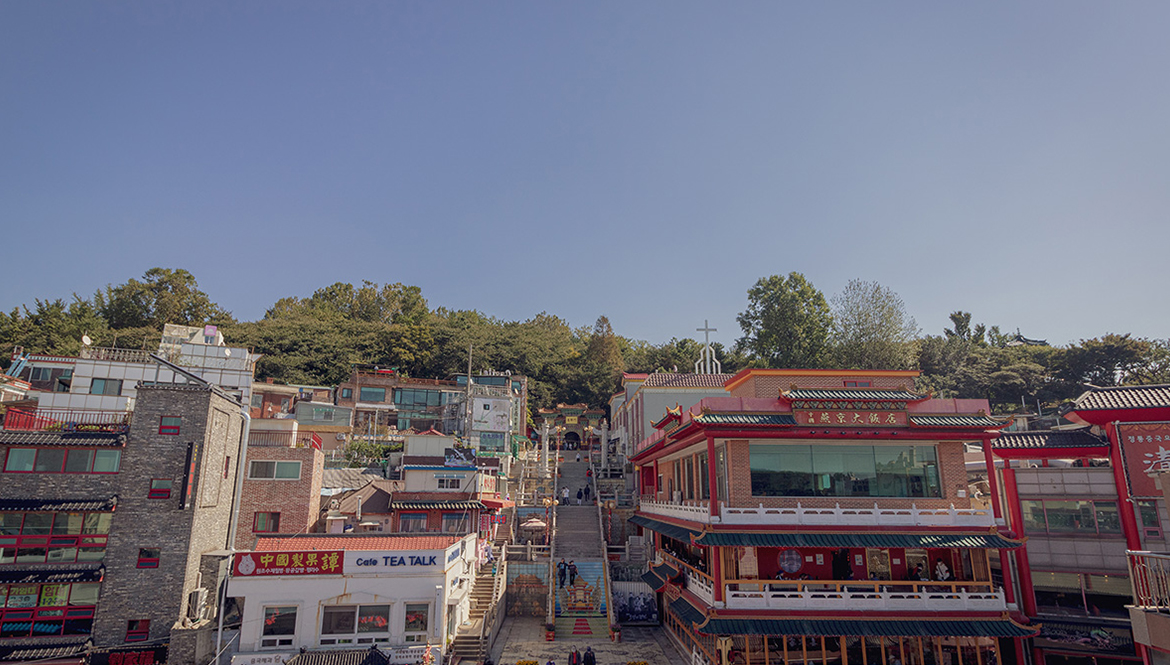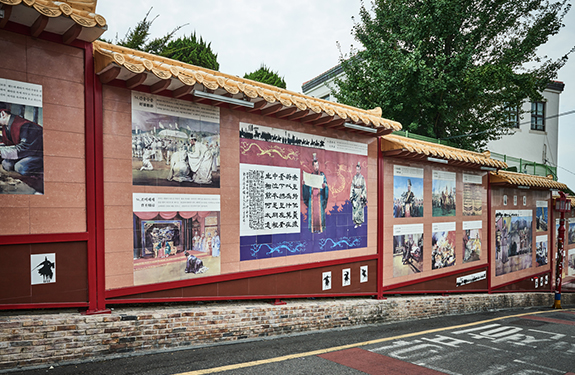 Samgukji Mural Street
The Romance of Three Kingdoms (called 'samgukji') is a Chinese novel so popular that it is hard to meet a Korean who is unaware of it. As the Samgukji (Three Kingdoms) Mural Street located at Chinatown in Incheon features a total of 80 scenes and stories with tile decorations, visitors might feel as if they are in the actual novel. The mural covers almost all major scenes in the Romance of Three Kingdoms, ranging from the "Truce Resolution" where Liu Bei, Guan Yu and Zhang Fei swear a brotherly pact, to the "Three Visits to the Thatched Cottage" by Zhuge Liang, both of which enthral visitors.
Chohanji Mural Street
In addition to the Romance of the Three Kingdoms, the "Legend of Chu and Han," portraying a 5-year-long war waged to gain hegemony over China between Xiang Yu of the Chu Dynasty and Liu Pang from the late Han Dynasty during the end era of the Qin Dynasty, is also a popular Chinese history book. The Chohanji Mural Street located in Chinatown, Incheon consists of 56 murals featuring tile drawings and stories. The walls cover famous historical incidents, featuring 'a strategy to fight with water on their back' that was deployed by Han Xin, who won victory after victory as Liu Pang's Commander-in-Chief, and 'Farewell My Concubine' by Xiang Yu, who was surrounded by enemies on all sides after just one defeat.
Chinatown
Chinatown is one of Incheon's representative tourist attractions, visited by crowds of tourists every year. Its history dates back to 1883. Chinatown was formed naturally as Chinese visitors started to frequent the Open Port, and it still retains its Chinese culture and customs harmonized over the past 120+ years. There are a variety of Chines elements that leave you wondering where you actually find yourself, ranging from the splendid red street ornaments to traditional Chinese street foods and the long arrays of Chinese restaurants, all providing a feast for your eyes and mouth.
Uiseondang Shrine
The 137-year-old Uiseondang Shrine, literally meaning 'Live Righteously, Virtuously and Harmoniously', is a small mausoleum built by people from the Qing Dynasty. At that time, the Consulate of the Qing Dynasty in Korea was constructed in Incheon to induce overseas Chinese, with the aim to honor the tradition and culture of their hometowns. Overseas Chinese wished peace and harmony for travelers who navigated the sea and conducted trade through Uiseondang.
Songwol-dong Donghwa Village(Songwol-dong Fairy Tale Village)
At the opening of the port, Songwol-dong was a wealthy town in which foreigners resided. But the village gradually became outdated and emptied, and only the elderly remained. As a way to revitalize the area, the whole village underwent a perfect transformation into a Fairy Tale (Donghwa) Village. Comprised of a variety of themed roads, the village offers various murals, buildings, and foods to match the different themes. An even more unique feature is that the street facilities have been repurposed and transformed into creative items: telephone poles are turned into the beanstalk from 'Jack and the Beanstalk,' while old gas meters now form the body of the Tin Woodman from 'The Wizard of Oz.' Across this three-dimensional Fairy Tale (Donghwa) Village full of wonders to discover, it is possible to recall one's childhood and be childlike again.
Regeneration Space Café Tour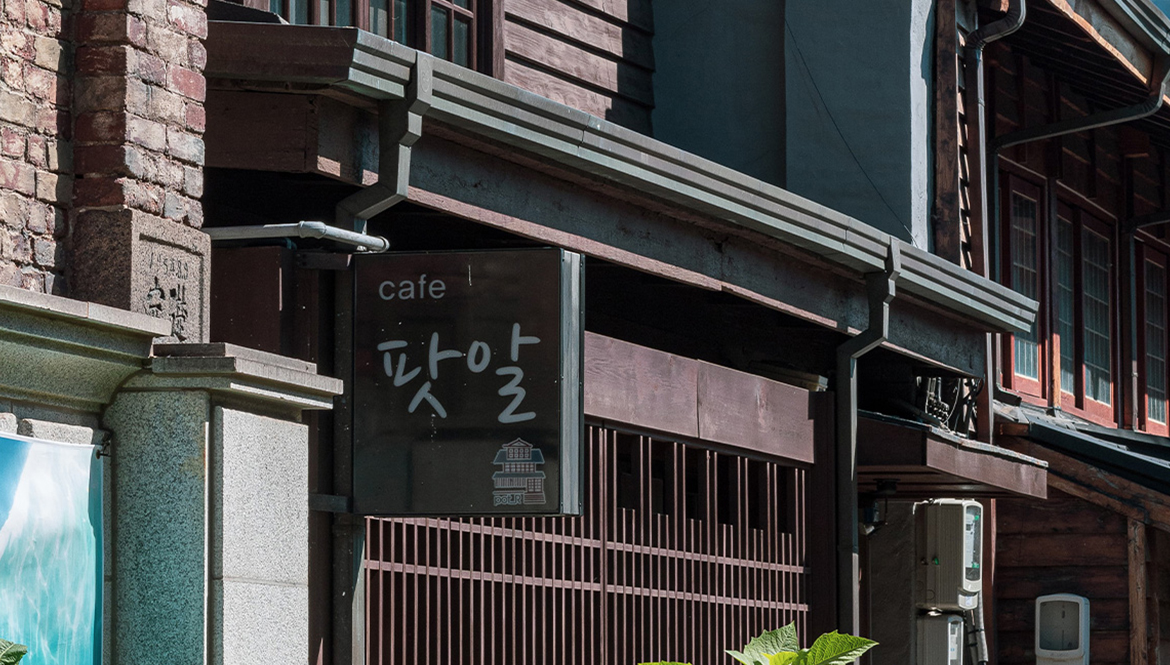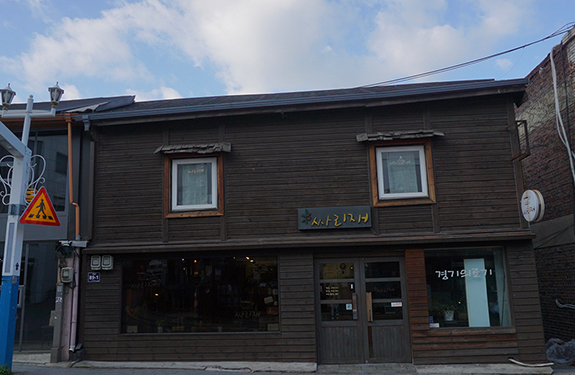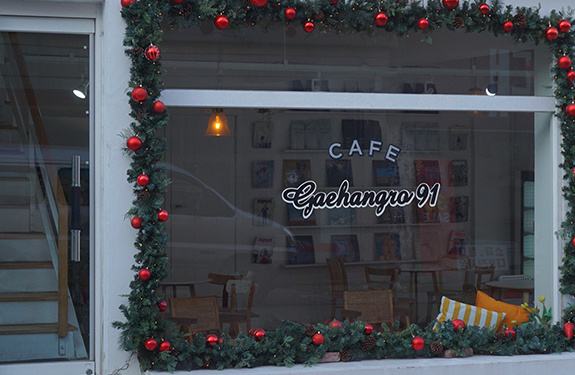 Café POT-R (카페팟알)
Café POT-R, whose menus include Red Bean Sherbet and Nagasaki Castella, is famous not only for tasty foods but also for its historic buildings. It is a traditional Japanese wooden building constructed in the late 1880s and early 1890s, and was used as an office providing laborers to Incheon Port when the Joseon Dynasty developed into a modern state. As the only Japanese style building still remaining on the former site of the Border Stairs between Chinese and Japanese Settlements, it has attracted recognition as a modern cultural heritage of Korea.
Ssarijae (싸리재)
Ssarijae was an ascending path from the present Gyeong-dong Intersection up to Baedari Village through Aegwan Theater. Café Ssarijae here displays antiquities that its traditional scent permeates the air, as if it were a museum itself, and serves as a complex cultural space where diverse events including lectures are held. Its menus includes Coffee Bong Bong and Ssarijae Coffee. All kinds of coffee are brewed on site through the use of a Moka Pot, accentuating the atmosphere and historic significance of the café.
Gaehang-ro 91
Café Gaehang-ro 91 has two floors with different concepts. Featuring palm trees, Rattan chairs and the blue sea, the first floor is reminiscent of the Havana loved by American novelist Ernest Hemingway. The second floor is an elegant and intimate space reenacting a 19th century French salon, drawing attention from European interiors of medieval times. The café serves various types of coffee menus including drip coffee, in addition to beverages and desserts ranging from Ade to homemade fruit syrup.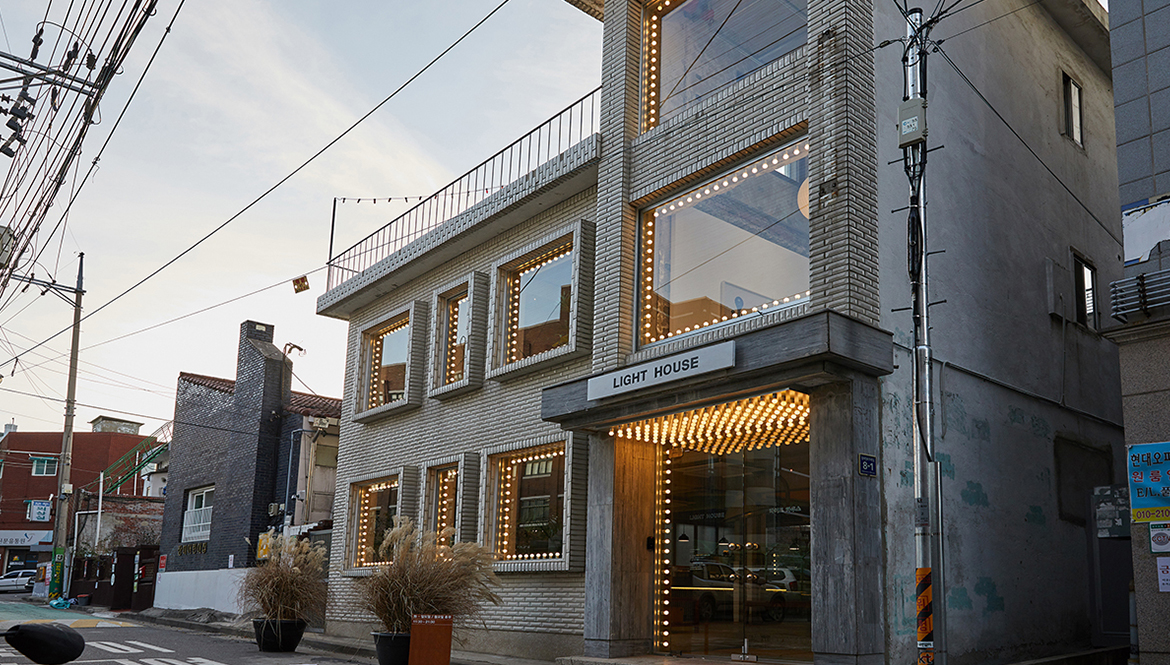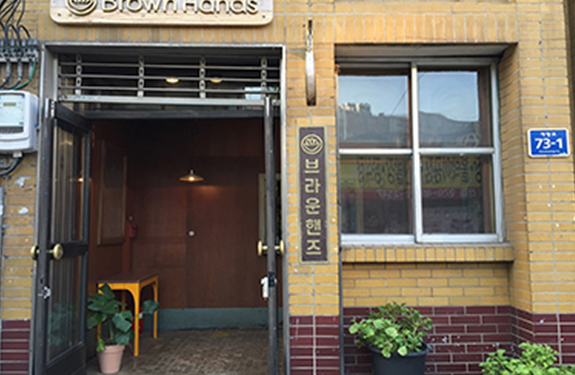 Lighthouse
The building of Café Lighthouse was an obstetrics clinic which had been in operation for some 40 years. But it is now changed into a unique cafe using incandescent lights. Various machines used in making lamps and other exhibits enable visitors to enjoy the space in itself, in addition to appreciating rich coffees. It has special souvenirs including cute goods and lamps that can be used as interior decorating items.
Brown Hands Café
Brown Hands Café was established by a casting design brand. The Gaehangro Incheon Branch was built through the remodeling of a former ENT building. It is a four-story building where antique interior objects that were used in the old hospital, chipped wall paint and decrepit windows and stairways dominate the café atmosphere.
Incheon Motel X Ruby Salon
As indicated in its name, Incheon Motel X Ruby Salon was made through remodeling an old inn and visitors can find its traces in every nook and corner. The first floor includes a café, while the second floor consists of a music exhibition hall and a rooftop. The owner of the café selects and plays songs from a counter filled with old LPs, and visitors can enjoy various genres, ranging from indie to old popular songs. It offers coffee, beverages and desserts in addition to signature menus.
New-Retro Experience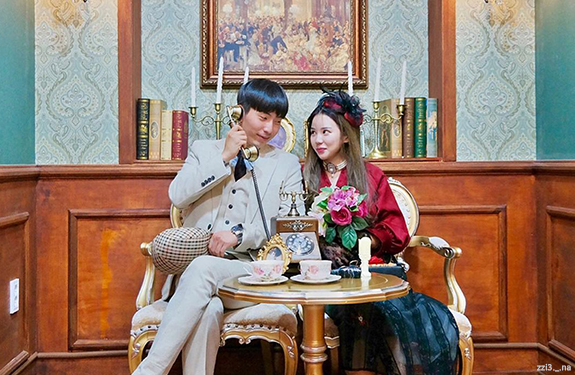 New-retro Experience
As urbanization advanced in the 1920s, 'modern girls and boys' referred to those who had accepted a modern lifestyle. They boasted unfamiliar fashions and pursued a lifestyle that departed from the traditional one. Today, you can have a chance to experience clothing during the port opening period. The Gyeongseong 1950 rents clothes that were in fashion at that time and Sinjemulpo Club is a photo studio typifying the atmosphere of the time of the early modern. Both are so popular that many couples wish to take unique wedding photos.
Handicraft workshop experience
As studios in the street currently called Hangmidan-gil are located near the port, the nets, anchors, ropes and fishnets used in ships were produced and sold here, making Incheon a representative port city embracing sea life and culture. Literally meaning 'a beautiful street in the Open Port Area situated in front of Incheon Station', Hangmidan-gil enables fishnet master artisans and artists in Incheon to craft and ordinary people also can experience handicraft workshops in person. Visitors can make their own souvenirs by trying out handicraft in leather or Hanji (traditional Korean paper) studios.