Hallyu Inspired Locations
Incheon drama pilgrimage route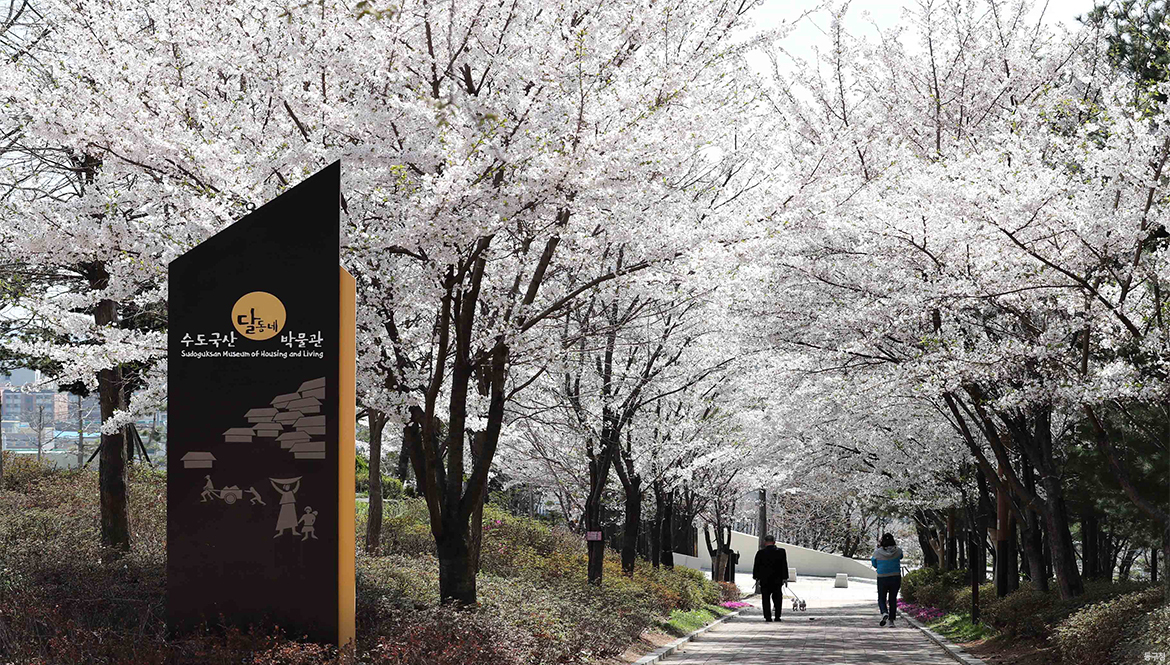 Baedari Secondhand Bookstore Alley
In the Baedari Secondhand Bookstore Alley lies the Hanmi Bookstore with a yellow exterior that appeared in the drama <Goblin> In this alley you can get a glimpse of the lives of ordinary people who have lived here since the port was opened and thus a part of Incheon's, and is also famous as a location for shooting various dramas and movies. At one time, more than 40 bookstores were gathered to form the really busy alley, but now, only six bookstores remain, playing a role as a new cultural space. This place preserves the aesthetic of the old alleys 50 to 60 years ago, centering on the mural streets depicting old images and the lives of Baedari people on the old wall, giving you the feeling of traveling through time.
Songhyeon Neighborhood Park
Songhyeon Neighborhood Park has appeared in the dramas <Goblin>, <When a Man Falls in Love>, and the movie <Extreme Job>, so it is a must-visit for drama or movie fans. It is a neighborhood park with various amenities for residents such as various sports and leisure facilities and a Sky Eco Park. The Sudoguksan Museum of Housing & Living in the park brings back memories of the past by recreating the old appearance and life of Dal-dong. There is also an experience program such as briquette-hanging, making, and picking, making it fun and easy to learn modern and contemporary history, and it has become a wonderful retro photo zone.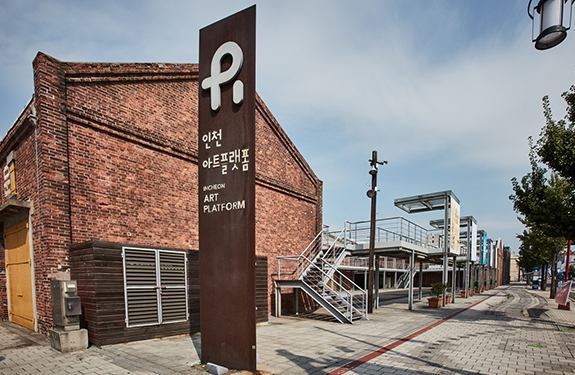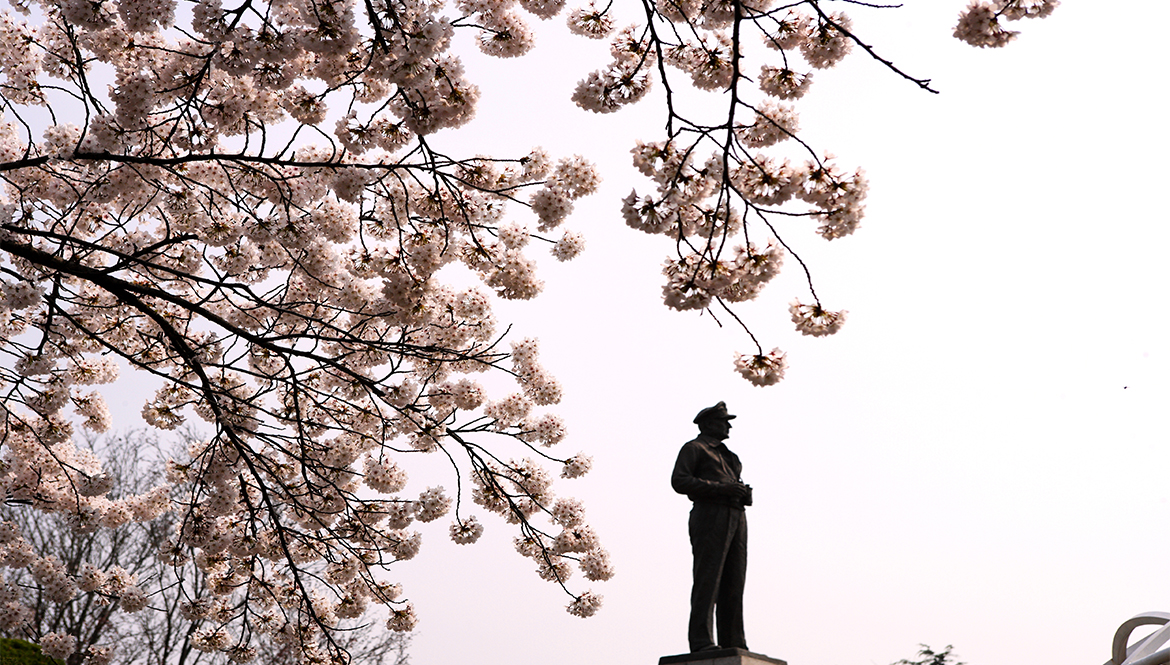 Incheon Art Platform
Incheon Art Platform is a culture and art complex space created by purchasing a total of 13 buildings near the open port in Haean-dong, Jung-gu in 2009. Buildings built in the 1930s and 40s have been neatly remodeled while retaining their old appearance, showing an exotic appearance. Thanks to this, it often appears as a location for TV dramas <Goblin> and movies <Beauty Inside>. Currently, it is used as a creative studio, exhibition hall, performance hall, and life culture center, and serves as an incubator where artists and researchers of various genres, including visual arts, gather to produce various cultural contents.
Jayu Park
When many people think of Incheon, the first place that comes to mind is the Jayu Park, where the statue of General Douglas MacArthur, who commanded the Incheon Landing Operation, stands in a dignified position. This is Korea's first modern western-style park built in the area of Eungbongsan Mountain, which is 69m above sea level, and was created as a park for foreign residents who entered through Incheon Port in the early days of the port to relax. In 1982, the monument celebrating the 100th anniversary of the diplomatic relations between Korea and the United States was erected, and in spring, it is considered one of the best cherry blossom viewing spots in Incheon, the sunset over the Incheon Port and the sea from Seokjeongru or Jayu Park Square is also famous. Since it is close to the open port area and Chinatown, it is also good for a newtro trip following the traces of modern and contemporary history.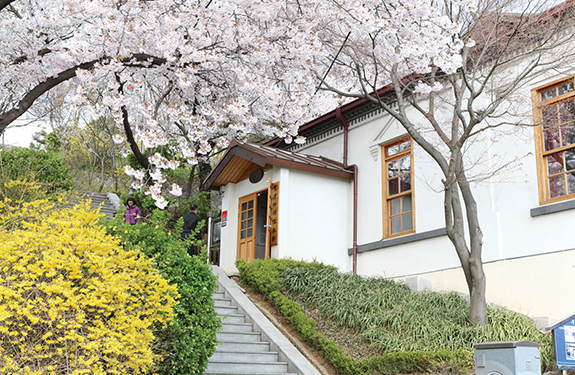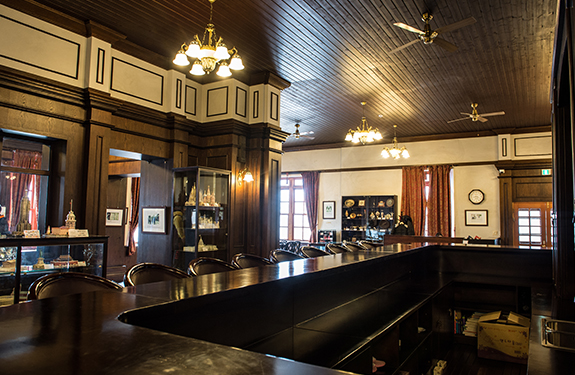 Jemulpo Club
The Jemulpo Club is the place where the goblin in the drama <Goblin> and the grim reaper Lee Dong-wook met. The exotic exterior was built in 1901 for foreigners living in Incheon to use as a social gathering place. At the time, the Jemulpo Club was a brick building with a two-story Western-style building, and was a high-end facility suitable for social gatherings with an internal social room, a library, a pool table, a restaurant and an external tennis court. Currently, it has been reborn and opened as a museum recreating the life of that time.
Ilgwang Lighthouse Cafe
A cafe made from a renovated obstetrics and gynecology clinic on the streets of the open port. The interior is decorated with soft yellow incandescent bulbs instead of LED lights attracts attention. Inside, a retro aesthetic is created by making the most of the traces of the hospital. When you enter inside, several spaces are connected like a maze, and photo zones appear everywhere. The Lightning Bingsu from the TV show <Bob Bless You 2> is the signature menu here, and the drama <It's Psycho, But It's OK> was also filmed here.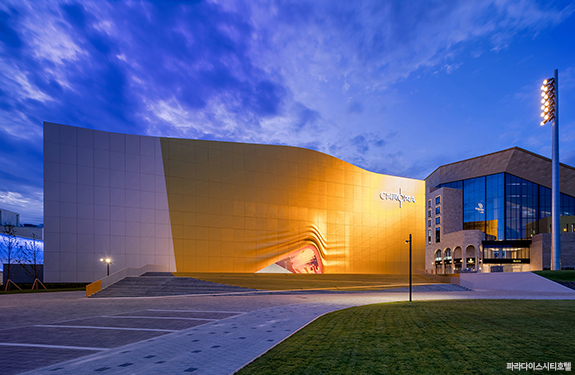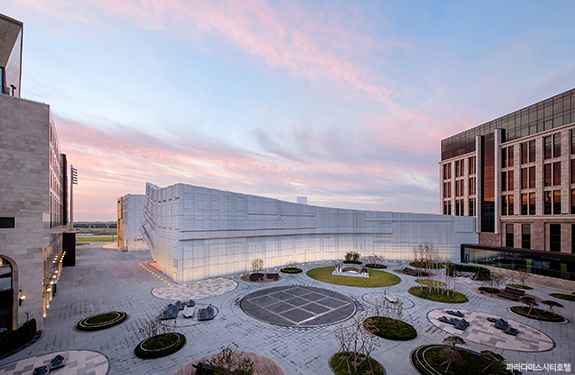 Paradise City Hotel
Paradise City, a 5-star hotel located on Yeongjong Island, where Incheon International Airport is located, is the first art-tainment resort in Korea that combines art and entertainment. The entire building is designed as a huge exhibition hall, with about 3,000 works of art displayed throughout the building. The wonderful structures inside and outside attract attention, among which the indoor spa Cimer is called a holy place for the body, and it has also been a filming location for many dramas. It is also one of the top hotels for hotel vacations as the resorts has a variety of things to see and eat, including casinos, conventions, Cimer spa, Wonderbox theme park, plazas, art exhibition spaces, studios, and clubs.
Seonnyeobawi Beach
In the drama <Crash Landing on You>, the scene of Captain Lee Jung-hyuk's first arrival in South Korea through a tunnel, was filmed at Seonnyeobawi Beach in Yeongjong Island. In addition to the legendary Seonyeobawi Rock, which is said to have played with the fairies on a rainbow, the area around Seonnyeobawi Beach shows a splendid view when the spiky and splendid shaped rocks and calmly breaking waves meet. At sunset, it's good to see the red sunset over the black rocks, and you can see the simple scenery of a quiet rural fishing village from the small dock behind Seonnyeobawi Rock.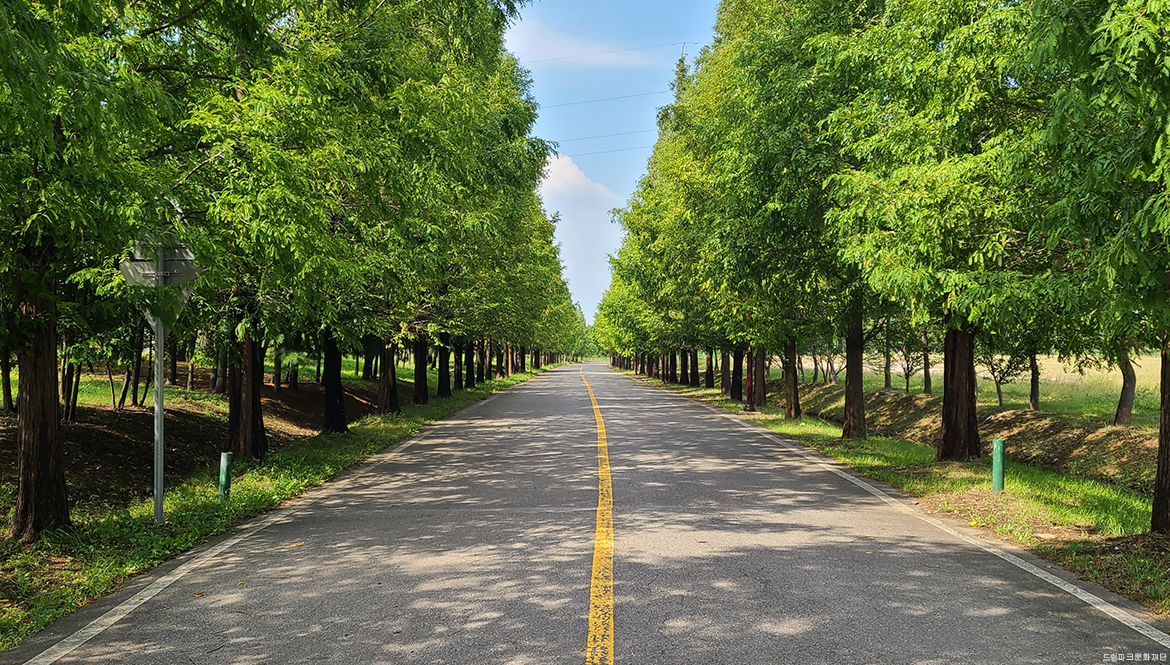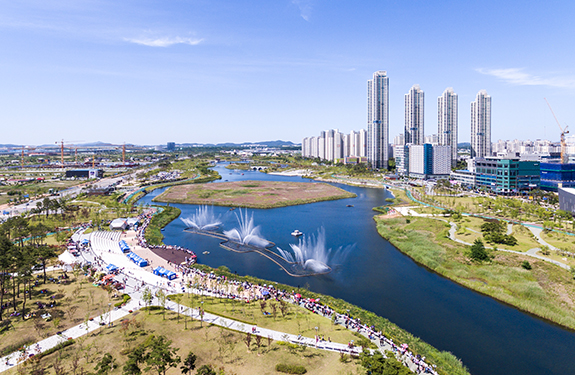 Metasequoia Trail
Metasequoia-gil, which appeared in the drama <Goblin>, is located in the Cheongna International City Dream Park, which was built on a landfill in the metropolitan area. If you walk along the straight green trees and breathe in the fresh air, you can even get a feeling of healing. A variety of ecological experiences are also available in the park, with a wildflower complex, the nearby National Institute of Biological Resources and many more created to provide nature-friendly waste disposal and a pleasant rest area for residents.
Cheongna Lake Park
Cheongna Lake Park, the filming location of the dramas <Goblin> and <Doctors>, is a famous place for water sports in the city and the musical fountain that unfolds at night. A water taxi is in operation as the Kernel Way crosses the Cheongna International City and connects to the park, and the park is largely composed of a tower zone, an eco zone, a traditional zone, a leisure zone, and an art zone. In the evening, after riding a bicycle or taking a light walk, it is recommended to enjoy the night view of Cheongna International City while watching the harmonized music and Water Show.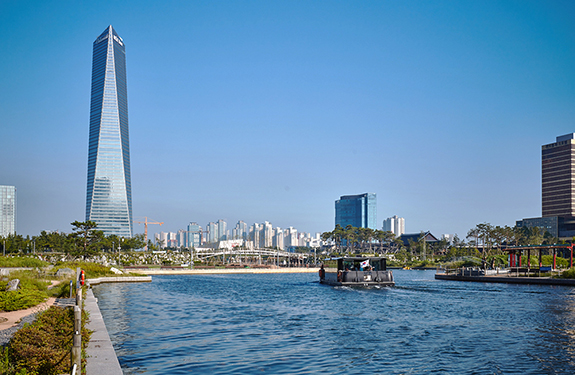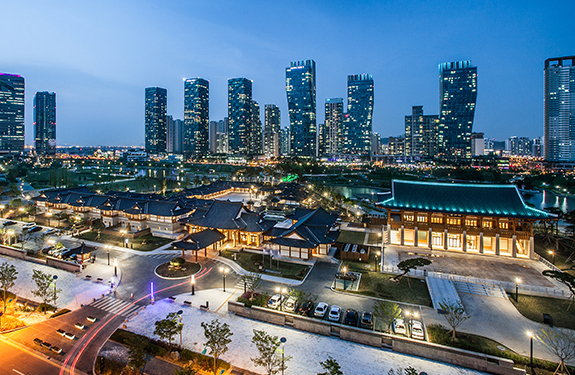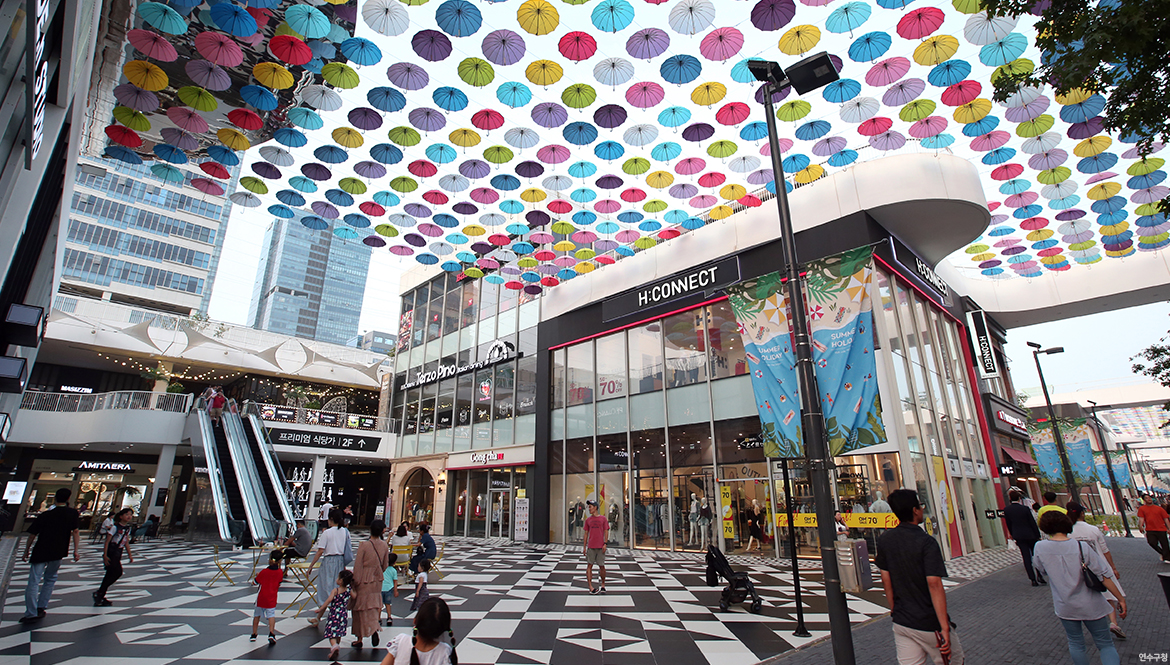 Posco Tower-Songdo
POSCO Tower-Songdo is a 305m tall building, 65 stories above ground and 3 stories below ground. It is one of the most prominent high-rise buildings in Korea and the landmark of Songdo International City. Immediately after construction, it was called Songdo NEAT Tower (Northeast Asia Trade Tower), but it has been called by its current name since September 2017. The building shows different sides according to the viewing angle and can be seen from anywhere around. You can enjoy the night view of Songdo in a luxurious atmosphere at Oakwood Premier Incheon Panoramic 65 on the topmost floor of POSCO Tower-Songdo.
Gyeongwonjae Ambassador Incheon
Gyeongwonjae Ambassador Incheon is a hanok hotel that showcases the beauty of tradition created by five Korean masters, and was selected best accommodation in the 2016 Korea Tourism Star Awards. The building's location among the forests shows a unique harmony of tradition and modernity, and it is popular as a hotel vacation place with both domestic and foreigners. The whole building was built in the traditional style of a beautiful hanok, but the interior of the room was decorated with beds and tables in consideration of domestic and foreign people who are not familiar with sedentary lifestyle. The Korean-style breakfast served at the hotel's Korean restaurant 'Sura' was a hot topic when it opened, and in 2018, it was selected as one of the top 3 Korean hotel restaurants that foreigners want to visit.
Triple Street
If you searched Songdo International City before your trip, you've probably seen pictures of beautiful streets with colorful umbrellas. This is Triple Street, where things to see, eat, and enjoy are in perfect harmony, and it has a good restaurant area and many SPA brand stores that are popular with young people. It is composed of GROUND STREET, where you can find the brand's unique mega stores, UNDER STREET where you can meet famous domestic and foreign restaurants, franchise restaurants, and lifestyle, PARK STREET, a refreshing rooftop space with sports experiences and observation decks. All three streets with their different charms offer a different pleasure to shopping.